This topic correspond to the post that can be found at http://www.streetgangs.com/hip-hop/120211_angola_c_murder_lil_boosie:
By Lora Neng
WWW.STREETGANGS.COM STAFF WRITER
December 2, 2011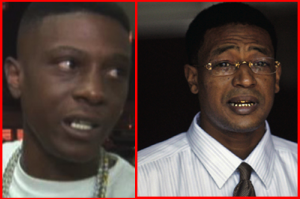 Lil Boosie is keeping himself occupied as he awaits sentencing in Angola State Penitentiary. He is reported to be communicating with another incarcerated rapper in the Louisiana prison, C-Murder, as they both count down their trial dates.
A few days ago, Lil Boosie plead guilty to three counts of conspiring to smuggle drugs into Dixon and Angola prison and received a sentence of 8 years. Being imprisoned has made him face the reality of his drug addiction, as he said to TMZ, "Don't worry about me I am getting help with my drug addiction and I am accepting full responsibility for the choice I made."
Lil Boosie has mitigated the isolation by exchanging messages with C-Murder. XXLMag reported from an interview with M-11, "He hasn't seen him directly, but they send messages to each other.. so, they keep in touch."
Lil Boosie, real name Torrence Hatch, still faces judgment for a charge of first-degree murder for the death of Terry Boyd. Corey "C-Murder" Miller is making a third appeal to overturn the conviction for the murder of 16-year-old Steve Thomas. The prison in which they are both locked up has been called the "Alcatraz of the South," surrounded on three sides by the Mississippi River.