By AP
Updated Jul 18, 2007, 05:41 pm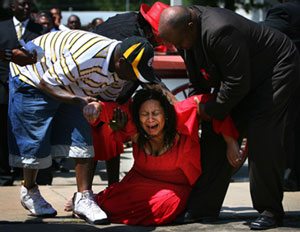 Beverly Farrow, aunt of DeAuntae Farrow, collapses in grief before the start of funeral services for DeAuntae on July 1 in West Memphis, Ark. Photo: AP/WideWorld Photos
WEST MEMPHIS, Ark. (AP) - The Reverend Al Sharpton was among the more than 2,000 people who packed the West Memphis Civic Auditorium July 1 to remember DeAuntae Farrow, the 12-year-old boy shot and killed by police in June.
Rev. Sharpton urged the public to "stand up for justice" at the funeral service, just one of several at the service calling for justice while urging the community to remain calm. He said DeAuntae's death should not be forgotten.
"We must not be upset for two weeks. They expect you to be angry and cool off," Rev. Sharpton said. "If we stand up for justice, this boy will not have died in vain."
DeAuntae was shot the evening of June 22 by a West Memphis police officer who said he believed the youth was holding a gun. Police said the boy had a toy gun; the boy's family has said he had a bag of chips and a soda.
Kirsten Foy of Rev. Sharpton's National Action Network urged angry community members not to "turn to despair."
"You may be feeling a little hurt, you may be angry," he said. "But the way to victory is not with hate. Don't turn to hate. Don't turn to darkness."
West Memphis City Council member Marco McClendon read words written by Deborah Farrow, the boy's mother:
"What would I give to have you back here with me? Momma misses you very much."
Sheri Lowe, DeAuntae's principal, said he was one of the most well-mannered children she's encountered in her 28 years as an educator in West Memphis.
"With someone the quality of DeAuntae, it's a tragedy to us all," she said.
DeAuntae was outside playing with a friend while police were on a stakeout of an adjacent apartment. Police have said the boys ran by, yelling, and officers told them to stop. Police say one officer fired when it appeared DeAuntae was holding a weapon and moved.
Relatives and community residents have insisted the shooting was unjustified.
State police have said they will turn their findings over to the FBI so agents can decide whether to pursue a civil rights investigation. The officer, Erik Sammis, was placed on paid leave pending the outcome of the investigation.
Bill Sadler, a spokesman for the Arkansas State Police, said there is no deadline for the investigation.
"The state police is doing everything it can to make sure this is done professionally and accurately," Mr. Sadler said.
The service was protected by members of the Crittenden County Sheriff's Department, and no West Memphis police officers were visible.
"We asked the sheriff's office and the Crittenden County search and rescue (squad) to handle all the traffic, just out of respect for the family," West Memphis Assistant Chief Mike Allen said.
© Copyright 2007 FCN Publishing, FinalCall.com