This topic correspond to the post that can be found at http://www.streetgangs.com/law/111909_latinkingsindiction/:
from AFP
November 19, 2009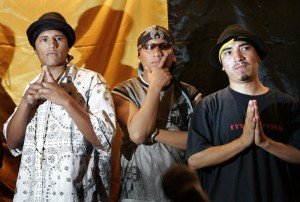 A federal grand jury Thursday indicted 19 members of a violent Hispanic street gang, alleging involvement in a criminal enterprise and conspiracy in a host of assaults and attempted murders, US officials said.
The defendants from the Maryland branch of the "Latin Kings" gang, a group with thousands of members largely based in Chicago and New York, face a maximum sentence of life in prison if convicted, the US Justice Department said in a statement.
"Today's indictment alleges that the Latin Kings gang is an organized criminal enterprise with leaders and members who commit violent crimes," said US Attorney Rod Rosenstein.
The indictment charges that "from a date unknown to the present, the Latin Kings members conspired to commit attempted murders, robberies, witness tampering and arson to further their racketeering scheme," the Justice Department said.
The group is alleged to have been started in Maryland from the spring of 2007 by Miguel Cruz and Erick Roman, who named their "tribe" of the main gang the "Royal Lion Tribe of Maryland."
Thousands of members affiliated with the gang -- officially named "Almighty Latin King and Queen Nation" -- are said to be spread throughout the United States and Latin America.
"Gangs, like the one charged in this indictment, may be relentless in protecting their turf, but we will be relentless in taking it back," vowed assistant attorney general Lanny Breuer.
Among the charges, officials accuse Latin Kings members of gathering materials for a firebombing; stabbing a suspected rival gang member in Maryland; shooting at other gang members in New York; committing a number of burglaries; and conspiring to murder a security guard, and a female gang member for "snitching."
"We dismantled a large part of the Latin Kings organization whose members allegedly used violence to secure the sanctity of their private society. We have made a serious impact on violent crime and gang violence," said Kenneth Melson, deputy director of the US Bureau of Alcohol, Tobacco and Firearms.