GANG BANG
A quiet stroll through the streets of Sofia may be an epiphany, if you know where to look for some of Bulgaria's most gruesome organised crime hits
by Slavi Angelov; photography by Dragomir Ushev, 24 Chasa
Organised crime in Bulgaria has two sources: the former State Security, or DS, and former athletes. The Bulgarian mafia often makes headlines with gangland murders, but even if you're not an underworld aficionado, you've probably seen some of these wiseguys on the street, in stores or at nightclubs. A mutra, or mafioso, is easy to spot: just look for a guy with short hair, black clothes, a fancy car and a stunning babe on his arm.
The Bulgarian mafia is like those in Sicily, Moscow, New York and Amsterdam. Only the most brutal survive by stirring up intrigues among their enemies, striking first and never forgetting that nobody is immortal.
However, the Bulgarian mafia is the only mob whose top bosses are former wrestlers. The beginning of organised crime coincided with the beginning of democratisation after the fall of Communist dictator Todor Zhivkov in November 1989. The time was ripe: the police and prosecutors were powerless, sleaze was the law of the land, and the DS needed a quick way to launder the Communist Party's money.
At this critical moment, the athletes made their move. The darlings of the Communist regime, after 1989 they soon discovered that the new government had neither the desire nor the funds to support them. Politicians cut the huge subsidies for sports clubs, leaving thousands of athletes out of work. Many wrestlers, karate players, weightlifters and boxers soon turned to petty crime.
Their first victims were hapless foreign guests at the Bozhur and Ihtiman Motels near Sofia. Athletes swindled truck drivers and tourists in money changing scams, stole cars and mugged unfortunate victims. So began the illustrious career of Ivo Karamanski, a former wrestler considered the "Godfather" of the Bulgarian mafia.
The Bulgarian government eventually took action and some of the wrestlers fled to the Czech Republic or Hungary with fake passports, where under Karamanski's guidance they trafficked stolen cars to Bulgaria. In 1991 the Czech police arrested and expelled 24 Bulgarians, the "Godfather" among them.
They were soon back on the streets, however. Meanwhile the athletes who remained in Sofia discovered that they could easily control petty criminals. They forced car thieves, burglars and small-time conmen to pay a monthly "tax," while Sofia and the rest of the country were divided into zones of power. Of course, turf wars were inevitable. The first clashes between wrestlers and karateists, and between karateists and boxers, were mass fistfights, but they quickly escalated into the first shootouts and casualties.
The wrestlers eventually won, thanks to their exceptional brutality and their close ties to the former DS. The latter controlled all the channels for trafficking weapons, cigarettes and amphetamines created by the Communists before 1989 - but they needed some muscle to help them with the dirty work. The wrestlers became their bodyguards, terrorising all who crossed their path. The first joint operation showed the partnership's effectiveness.
At midnight on 29 November 1992 the dispatcher on duty at the Bulgarian State Railway announced a ban on the transport of all petrol products to the former Yugoslavia. UN Security Council Resolution 820 was violated the moment it came into effect, however. On that very night, Italian and Bulgarian tankers unloaded more than 100,000 tons of petrol in the port of Burgas. The Neftochim refinery legally purchased the fuel and prepared it for export to "Greece and Macedonia".
In reality, the containers were sent straight to Serbia - the wrestlers made sure the deal went off without a hitch by beating, threatening and bribing railway workers, customs officers and the police.
According to the prosecutor's office, in a single month 20 million litres of fuel crossed the border at Dragoman. Nothing came of the investigation and arrest of 10 suspects - including a deputy prime minister. All were acquitted, and the Bulgarian mafia made its "first million". The story of its next millions, however, is equally unsavoury.
In 1994 wrestlers had the whole country in a stranglehold. Every entrepreneur, car owner, nightclub, mum-and-dad grocery store and bank paid them protection money. If they refused, they could expect a visit from a gang of toughs with crew cuts and baseball bats, coked up and eager to beat or kidnap them and destroy their property. Ordinary Bulgarians gradually began to call wrestlers mutri and "business" became a dirty word.
The wrestlers themselves had no qualms about their business and legalised their activities in the form of "security companies". Their "clients" were required to advertise their affiliation with stickers placed in restaurant windows or car windshields. Kyustendil wrestler Vasil Iliev founded Bulgaria's most powerful security company, VIS-1, which stands for Vyarnost, Investitsii, Sigurnost, or Loyalty, Investments, Security. While the government dithered, the wrestlers took over part of its duties. Hundreds of entrepreneurs sought their help to settle private arguments or to collect bad debts. The mutri's solutions to such problems didn't include administrative penalties.
Towards the end of 1993, the ex-athletes began to launder money by buying up bars and hotels in Sofia and in mountain and seaside resorts. In April 1994, however, things went a bit too far. VIS-1 mutri beat Chinese trader Li Supao to death because he refused to pay them. A few days later the Sofia police revoked VIS-1's license. Then mobster Pantyu "Poli" Pantev got a bright idea: why not go into the insurance business? So the security firm VIS-1 was reborn as the astonishingly profitable insurance company VIS-2, which reportedly took a few million leva a day. Boss Vasil Iliev even considered opening a bank.
Just then a new and brutal opponent stepped into the ring: the Security Insurance Company, or SIK, founded by Mladen "Madzho" Mihalev, Krasimir Marinov, Milcho "Bay Mile" Bonev, Rumen "Pasha" Nikolov, Dimitriy "Russian" Minev and Ventsislav Stefanov.
The first casualty in the war was Vasil Iliev himself, who was killed in April 1995. A few more murders quickly cemented SIK's power. Things started to change in 1997. After the country plunged into economic crisis under the Bulgarian Socialist Party, opposition leader Ivan Kostov and the United Democratic Forces, or ODS, came to power. A year later the new government revoked the "insurance" companies' licenses and Bulgarians stopped paying reket, or protection money.
The wrestlers found other ways to keep busy, however. With the help of lawyers and financiers, they took over the gambling industry and also imported contraband meat, vegetables, goods from China and Dubai, and home appliances and electronics. They backed fashion agencies, football teams and television stations. They also snatched up the juiciest public concessions in Sofia and other large cities: rubbish removal and parking. Living the dream of its erstwhile opponent, SIK opened its own bank.
Until that moment the Bulgarian mafia had steered clear of drug trafficking, leaving that to Iranians, Albanians and Turks. But when their extortion income was drastically reduced, they changed their tune. Within a few months SIK's Poli Pantev and VIS's Metodi "Meto Iliyanski" Metodiev controlled all the drugs in Sofia and within a year they had divided the country between them.
A new round of killings followed. In 1998 construction contractor Emil Petrov was gunned down because of a $500,000 transfer to the bank owned by SIK. In fact, one of SIK's partners ordered the hit, infuriating other SIK gangsters who were Petrov's friends. Bulgaria's most powerful mob splintered and its factions began a savage internal war. After two failed assassination attempts, Poli Pontev was killed on the island of Aruba in March 2001. In July 2004, Bay Mile, the mastermind behind many ruthless hits, was killed in a spray of bullets, Hollywood-style: the gunmen entered his favourite restaurant dressed as policemen. In October his death was avenged by the murder of The Russian.
Despite the infighting, SIK spared a few bullets for VIS. In December 2003 Konstantin " Samokovets" Dimitrov, who led VIS's trafficking operations, was gunned down in front of a diamond store in Amsterdam. Shortly before that Meto Iliyanski disappeared - never to be seen again - while Filip "Fatik" Naydenov, a second-generation amphetamine producer and trafficker to the Near East, was shot dead at a Sofia intersection.
In August 2005 a sniper killed VIS boss Georgi Iliev with a single bullet to the heart as he dined in his own restaurant in Sunny Beach.
Today the surviving bosses from the first generation, born in the 1960s, can be counted on one hand... and their numbers continue to dwindle, since they have long since put out hits on one another. Despite the EU's best efforts to stamp out organised crime, their brutal wars and racketeering continue. So don't be surprised if you hear about them in the news sometime soon.
----------------------
--------------------------
Target Vasil Iliev
Life Started VIS-1. Charismatic, good organiser, opponent of excessive violence
Death Shot in 1995, while driving slowly to avoid potholes on Louis Eyer St in Sofia. His three bodyguards in the following car didn't have time to react
Behind the hit Rival mob SIK
.....
Target Ivo "Godfather" Karamanski(I remember hearing talk about this guy 10 years ago)
Life Canoe-kayak champion. Extravagant. In 1994 he ran for MP from prison, donated money for the children of dead miners and recorded a music album
Death Two bullets to the head in 1998 at a student party in a villa in the Simeonovo neighbourhood of Sofia
Behind the hit No one. He was murdered in a drunken brawl - the killer Stefan Vazharski is now serving a life sentence
.....
Target Pantyu "Poli" Pantev
Life One of Bulgaria's most brutal mafiosi. Suspected of personally murdering several people in the mid-1990s
Death Shot in 2001 in the lobby of a hotel in Aruba by two men with Slovenian passports bearing the names of Papunic and Radanovic
Behind the hit SIK leaders, who were afraid of Pantev after the group splintered
LOOOOOOOOOOOOOL WTF Pantyu "Polly" Pantev - drug smuggler, initially affiliated with VIS, later with SIC. He was rumoured to have stolen half a ton of cocaine from the Russian or Colombian mafia. Several assassination attempts, including one with a missile[2], caused him to leave the country and go into hiding, until he was eventually shot on the isle of Aruba on 09.03.2001.
.....
Target Iliya Pavlov
Life Freemason, former wrestler with close contacts in the former State Security, or DS. He didn't hide his connections with political parties - his Multigrup mob was strongest during the government of Caretaker Prime Minister Lyuben Berov (1992-1994)
Death A sniper killed him with a shot to the heart as he left his office on Cherni Vrah Blvd in Sofia in 2003
Behind the hit Russian mafioso Grigoriy Karamalak or the two SIK leaders
.....
Target Filip "Fatik" Naydenov
Life Son of a Syrian who in the 1970s smuggled amphetamines, cigarettes and weapons through Bulgaria. Fatik trafficked in stolen cars and produced and exported synthetic narcotics
Death While waiting in his Mercedes at a red light on Bulgaria Blvd in Sofia, a man on a motorbike shot him wi th a machine gun
Behind the hit Rival
.....
Target Stoil "Calf" Slavov
Life Before 1989 he worked for the National Protection Service. In 1994 he became a partner in the firm that eventually became SIK
Death Blown up in a lift in the SIK building on James Bourchier Blvd in 2004 along with two of his close associates
Behind the hit Other SIK bosses or a mafioso from the southern Black Sea coast whom The Calf had put out a hit on
.....
Target Milcho "Bay Mile" Bonev
Life Handball player, in 1994 he became a partner in SIK. He was responsible for hits
Death Shot in 2004 at Slaviya, his favourite restaurant in Sofia. The killers wore police uniforms and at first pretended to carry out a police raid.
Six victims were murdered in the shootout
Behind the hit The SIK branch headed by Nikolay "Margina" Marinov and "Russian"
.....
Target Dmitriy "Russian" Minev
Life Born in Penza, Russia. He and Margina were the original SIK shareholders. In 2003 he ranked among the country's three biggest taxpayers
Death Killed with a single shot to the heart in 2004 as he left the Up Stairs Bar on Vitosha Blvd in Sofia. The sniper hid in a building across the street inside an empty apartment owned by a sitting MP
Behind the hit The rival wing of SIK, avenging Bay Mile's murder
.....
Target Georgi Iliev
Life Vasil Iliev's younger brother. Street thug, convicted of rape and investigated for two murders. He took over VIS after Vasil's murder
Death A man hidden in a hedge killed him with a single shot to the heart in 2005 as Iliev was standing in his Multiplace Restaurant in Sunny Beach
Behind the hit Four days later the killer's mutilated corpse was found floating in Varna Bay. The hit organiser - Pernik bandit Rayko "Blood" Stankov - was shot soon afterwards
.....
Target Ivan "Doctor" Todorov
Life Smuggled cigarettes to the UK. In 2003 his Mercedes was blown up in traffic on Tsarigradsko Shose Blvd in Sofia. Doctor survived - and his car was found to contain photos from a yacht in Monaco showing Doctor playing cards with the finance minister Milen Velchev, transport minister Plamen Petrov, Miroslav Sevlievski MP and the businessman Spas Rusev
Death Killed in his Porsche in 2006 on Chervena Skala St. As the assassins opened fire, the motorcade of the Turkish president, who was on an official visit to Sofia, passed only 200 m, or 650 ft, away
Behind the hit SIK leaders or his former associates
--------------------
Krasimir and Nikolay Marinov
------------
Mladen Mihalev
-----------------------
Boiko Borisov
LOOOOOOOOOOL NO FUCKING SHIT
US Report: Borisov is a Mobster
WASHINGTON (News.bg) -- Sofia Mayor Boiko Borisov is linked to the biggest mobsters in Bulgaria, according to a confidential risk-analysis investigation of the country commissioned by a private bank, the U.S. Congressional Quarterly (CQ) writes.
The most powerful politician in Bulgaria, Washington's newest ally in the global war on terror, is a close associate of known mobsters and linked to almost 30 unsolved murders in the Black Sea republic, the report reads.
The U.S. partnership with Boyko Borisov, 48, a popular former Chief Secretary of the Bulgarian Interior Ministry, is the latest example of the political trade-offs involved in the Bush administration's global war on terrorism, which has put the Pentagon, CIA and FBI in bed with some of the world's most corrupt and thuggish leaders, the edition states.
According to a 3-inch thick confidential dossier compiled by a team of former top U.S. law enforcement officials on behalf of a Swiss financial house, Borissov is also considered "a business partner and former associate of some of the biggest mobsters in Bulgaria," CQ writes.
The 18-month-old report was obtained on condition that the bank and its investigators not be identified.
During a four-year term as Chief Secretary during 2001-2005, the report suggests, Borisov used his responsibility for policing official corruption to help mob associates wipe out their underworld competition.
But a former top FBI official deplored the Bush administration's embrace of Bulgaria, and by extension, Borissov, as a counterterrorism ally.
"Borissov has probably gone a long way to clean himself up," said the former official, who requested anonymity, "and my opinion is that he was much more vulnerable to criticism in 2005 than he is today.", CQ concludes.
The Bulgarian embassy in the U.S.A. has sent the article to the Bulgarian President's Office, Foreign and Interior Ministries.
http://international.ibox.bg/news/id_165193915
--------------------------------
Vasil "The Skull" Bozhkov
------------------------------
Zlatomir "Zlatko Baretata" Ivanov
-------------------------------------
Emil Kyulev
---------------------------------------
Anton "The Beak" Miltenov
-----------------------------------
Nikolai "The Russian" Radev
-------------------------------------------------------------------------------------------------
Much of the post-Communist Bulgarian mafia originates from the professional sportsmen and especially the wrestlers of Communist period (1944-1989). For example, the Iliev brothers, Big Margin and Iliya Pavlov were all students of the school for future champions "Olympic Hopes" (Bulgarian: "Олимпийски надежди")[3]. Indeed, the Bulgarian word борец ("wrestler") came to denote a mafia man (a common synonym is мутра, literally "mug"). The image of the Bulgarian "mug", including a sturdy physical build, a black suit, sunglasses, a shaved head, and golden jewellery, became iconic for the so-called Bulgarian "Transition" (to market economy). [2] The mafia came to control much of Bulgarian business, so the word "businessman" acquired similar undertones. The "mugs" also infiltrated Bulgarian politics (it was often alleged that SIC and VIS were connected to the two main parties of the 1990s, the Bulgarian Socialist Party and the Union of Democratic Forces, respectively).[4] As the UDF government (1997-2001) made the registration of the criminal insurance businesses more difficult, much of their networks and personnel were integrated into existing legal insurance firms, while at the same time the principal bosses moved the focus of their attention to smuggling, trade and privatization.[2] In the beginning of the 21st century, during the rule of National Movement Simeon II (2001-2005), assassinations became especially common. Evidence for the relations between criminal figures on the one hand and politicians and officials on the other is a recurring scandal in Bulgarian politics (UDF chief prosecutor Ivan Tatarchev allegedly recreated together with Ivo Karamanski, NMS-II finance minister Milen Velchev was photographed playing cards with "The Doctor", and most recently BSP interior minister Rumen Petkov negotiated with the shadowy "Galev brothers").
-----------------------------------------------------
Security guards at Georgi Iliev's Funeral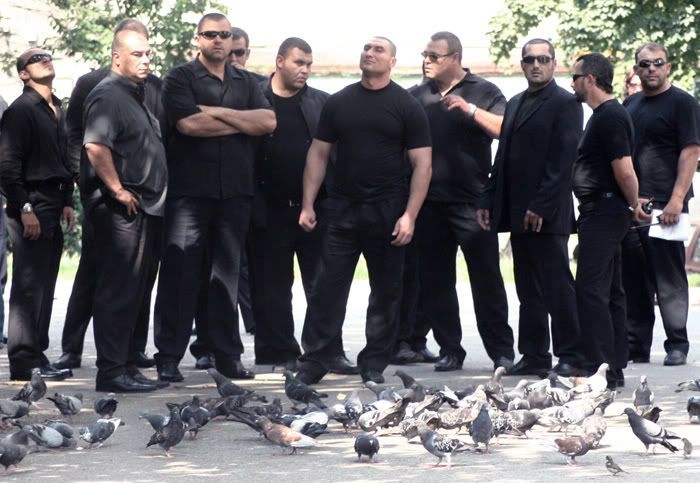 ----------------
...