This topic correspond to the post that can be found at http://www.streetgangs.com/news/102011_sacramento_gangs:
Raheem F. Hosseini (News Review) | October 20, 2011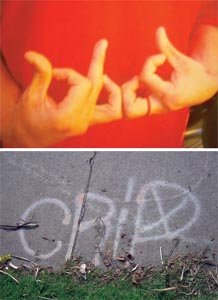 Luis "Freddie" Serrato still wakes up some nights seized with a cold panic. In his disoriented mind, he's back inside a 6-by-10 tomb, his life ebbing away moment by miserable moment for a murder he didn't commit.
"Sometimes I wake up sweating, thinking I'm in jail," the 21-year-old tells SN&R.
The night terrors are easy to understand when you consider Serrato spent the past three years of his life trapped in the 100th pod of Sacramento County's Main Jail as his gang trial limped to an uncertain conclusion.
In March, a jury acquitted Serrato of any involvement in the May 2008 shooting that left one dead in the parking lot of a Marconi Avenue liquor store. But the soft-spoken Serrato has struggled to piece his life back together—living in a surreal limbo that's both nightmare and memory, packed into his psyche like existential dynamite.
The legacy of growing up brown in a color-tripping neighborhood continues to haunt Serrato. Life in a jail cell with real gang members has left him in a state of constant shock, and a lifelong dream of joining the military has suffered multiple setbacks due to his rap sheet.
Serrato's tale also exposes the troubles local law enforcement has dealing with a mutating gang culture they say is growing in size and violence. Consider them the YouTube generation of gangsterism: Brazen, self-aggrandizing and primed for mayhem.
Read more at: http://www.newsreview.com/sacramento/new-face-of-sacramento/content?oid=4175180
Photo credit: SACRAMENTO POLICE DEPARTMENT