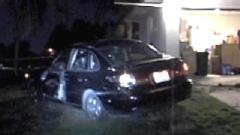 FONTANA, Calif.—A gang member is dead after a car he was riding in was peppered with rounds from an assault rifle fired from a sport utility vehicle in a Southern California neighborhood.Fontana police say more than 10 rounds were fired at the vehicle Monday night.
The San Bernardino County coroner's office say 24-year-old Ricardo Hernandez of Bloomington was found dead inside his car at about 8:25 p.m.
Sgt. Billy Green says two other men, also believed to be gang members, were in the car but they weren't hurt. He says the shooting is believed to be gang related.
The sergeant says no words exchanged before the gunman opened fire from the SUV.