About SG: Mission Statement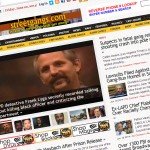 Welcome to Streetgangs.com. This site started on a Southern California University server in 1995 and has been using its own domain name since 1998. The initial purpose of this web site was to share information about the history of gang formation in Los Angeles which is key into understanding the scope of the current gang situation. Some of the historical research on gangs was published in Territoriality Among African American Street Gangs in Los Angeles. The information on this web site is useful for parents, educators, law enforcement and at-risk youth in understanding how the geography of gangs has had a major impact on some residents of Los Angeles and the surrounding communities.
It is important to note that this site is not intended to exploit, glamorize, or perpetuate the street gang culture but to help in understanding how and why the gang phenomena has become so pervasive. Some gang members do frequent the site, but parents, law enforcement, politicians, and attorneys have frequented the site and have informed us how helpful and informative the site has been.
Here are a few positions that Street Gangs maintains.

1. There has been much said about the link of gangster rap music and gangs, and we believe that gangster rap music from mainstream artists has been partly responsible for exporting gang culture and identities to other cities. This is not a criticism against Hip-Hop, but more so towards the gangster rap element. It is through the lyrics of some of our most prominent rappers, their perceived lifestyles, their imagery in videos, their clothing style, concerts, vernacular, etc., that gang names, culture, and identities has been transported to other cities across the United States and the world. It took less than a year before youth all across America wanted to learn and do the "Crip Walk" after seeing it featured in a rap video by W.C., and gang names from Los Angeles that only have appeared in music lyrics (i.e. Dogg Pound Crip Gang) are being copied in several American cities.
2. Not all gang members are criminals, therefore the gang itself should not be thought of as a "criminal organization." There are rogue elements within the gang that independently engage in consistent felonious activity and that exhibit predatory behavior, but those actions do not represent the totality of the gang. It is estimated by scholars, gang surveys, and law enforcement alike, that the gang population in any given neighborhood represents about five to ten percent of the neighborhood youth and about five to ten percent of that group represent the hard-core segment of the gang responsible for the majority of serious crime that is usually credited to the entire gang. We also contend that those gang members that exhibit predatory behavior, use the gang as an outlet for those behaviors, and if the gang did not exist as an outlet for those individuals, they would have exhibited those criminal behaviors in another fashion. Other American cities where gang culture is not so dominant, like New Orleans, Detroit, Philadelphia, and Washington D.C., are great examples where we see murder and crime rates exceed that of Los Angeles, where gangs are not part of the culture. Unfortunately, because Los Angele does have gangs, crime committed by members of these gangs will often be attributed to the gang, when in many examples that may be incorrect.
3. We believe that Gang Injunctions are politically motivated gang suppression tools that city officials use to appear tough on crime and to address the interests of some concerned residents regarding gangs in the community. The pursuit of an injunction is not motivated by gang crime but more so about protecting special business interests in specific locations of the County, including but not limited to middle class communities, public and private institutions, business development and gentrification projects. Most gangs that have had injunctions filed against them do not represent the most active and most violent gangs in the City, and nearly every gang injunction filed between 1987 and 2002 would not reach our threshold of most "violent" or most "active" neighborhoods relative to other neighborhoods in the region. Also during this period, a gang injunction was never implemented in South Los Angeles or East Los Angeles / Boyle Heights areas where crime rates in the city were the highest. Although gang injunctions are introduced as a collaboration between community residents and law enforcement, there are several examples of community based organizations rejecting the use of gang injunctions in their communities, but their concerns are often ignored. Additionally the money spent on injunctions would be better served trying to mitigate crime through intervention & prevention efforts that are focused on encouraging cease-fires between warring gangs, improving after schools programs, extending city park hours, and funding more community centers for the youth.
Today, gang injunctions continue to remain a popular tool that the City and District Attorneys use in their effort to combat gangs, but to date, they have never been proven effective in "shutting" a gang down, reducing its influence, or ending violence as city officials claim at countless new conferences. In the City's 2007 list of the top ten most violent gangs, seven of those gangs already had gang injunctions filed against them in the past, and the US Justice Department has filed federal RICO charges against 18th Street, Black P Stone and Avenues, gangs that previously had injunctions against them.
4. Gang enhancement penalties (186.22 California penal code) have often been misapplied by prosecutors in California against defendants with current and/or former gang identities. We have testified to this fact many times in court and have witnessed prosecutors attempt to convince a jury that John Doe robbed a bank (or any other crime) for the benefit of the gang (increase penalty), when the fact is that John Doe robbed the bank for the same reason anyone else would rob the bank, i.e., personal, financial, selfish, motivations, and not at the direction or for the benefit of a street gang. Prosecutors in Los Angeles County have a strong appetite to prosecute gang members and perceived gang members with enhanced penalties, mostly against black and Hispanic males between 18 and 25 years old. The Courts in Los Angeles County especially, have allowed police officers to speculate about the motivations of crimes committed by gang members during criminal trials, when often times, there is no evidence to support or back up many of the opinions that send these defendant to prison for longer terms.
Contrary to popular belief, gang members commit non-gang related crimes in the same manner that non-gang members do. They should be prosecuted in that manner when it can be exhibited that the crime does not fit that standard of "gang-related". Unfortunately, defendants with poor representation combined with over zealous prosecutors, tolerant judges, and police officers under pressure, will result in a defendant receiving a longer prison sentence unjustly. Many prosecutors and law enforcement officers believe if an individual is a gang member, EVERY crime committed by that individual benefits the gang as a whole, without examining the circumstances.
5. Los Angeles' definition of a "gang-related crime," specifically "gang-related homicide" is too broad and general and should use more specificity that distinguishes the true motive of a crime. Just because a crime is committed by a gang member does not necessarily mean that the crime was motivated by his gang affiliation. In Los Angeles, nearly every crime committed by a gang member is defined as "gang-related." For example, a 17 year-old gang member that kills his aunt in a heated domestic violence conflict will be defined as a "gang-related" murder when the gang affiliation had little to nothing to do with the assault. Additionally crimes committed by tagger crew and party crew members in recent years have been put into the gang member category, even though these youth groups are not representative of typical street gang in Los Angeles. This type of categorization tends to inflate gang crime statistics in Los Angeles, rendering them inaccurate, specifically in the homicide category, in an effort to paint a more bleak picture with regards to Los Angeles' gang situation. Why? Those statistics can be used and have been used to request more law enforcement resources from the federal government to police gangs and if those numbers are low, it makes if more difficult for municipalities to justify the financial request.
Over the years, this concept has generated millions of dollars for LAPD's C.R.A.S.H. program that has policed gangs for over 25 years. That program had come under much scrutiny in 2000 when LAPD officers from Rampart's C.R.A.S.H. division were arrested on charges of corruption. Although 2006 had a typical gang year with respects to crime, that year had been characterized as a crisis year, with the Mayor visiting Washington and in return the FBI Director and the US Attorney coming to Los Angeles to address what local officials were calling a gang crisis in an effort to request federal resources.
The 7,634 gang-related violent crimes in 2006 was down by 30 percent from 1996 that recorded 10,880 violent gang-related crimes. In 2011 that number has continued to drop with 4,694 gang-related crimes representing 23.7 percent of the total violent crimes in the City, which had 19,805 total violent crimes, but the city continues to inflate the gang-related homicide statistic claiming that approximately 50 percent of the City's homicides are gang-related. A closer analysis of the homicides in the City reveals that less than 30 percent of the homicides in Los Angeles are truly gang-related.
6. We were opposed to the City's naming a "top ten" gang list that they introduced on February 9, 2007, in their efforts in reducing gang violence. We see no benefit of identifying gangs when efforts should focus on individuals. This list is an example of glorifying gangs, giving credibility when not needed, and perhaps influencing other gangs that were not on the list. Additionally, a geographic analysis of all the gangs identified on their top ten list were not representative of the most violent. Although we object to the City's publicizing a top ten gang list, we formulated our own list to demonstrate how inaccurate their list was and to reveal possible geographic/political considerations that went into constructing their list. They have since stopped publicly naming top ten gangs and several popular articles since ours, was highly critical of the City's list, by Chief William Bratton and Mayor Antonio Villaraigosa.
We receive dozens of emails every day so forgive us if we cannot personally respond to your message, but we will do our best to answer ALL serious questions. We receive over 6 million page visits monthly so it's not possible to answer all requests. Please see the bibliography for tips on good books to read and for articles to download, or visit the book store for the latest a collection of gang-related literature. If you have a serious question about gangs visit the forum where your question may have already been asked and answered. If you would like to write an article for Street Gangs please follow the submission guidelines and forward your essay. Media requests should be made from the contact page.
Thanks for stopping by and God bless,
Streetgangs.com