Hat Gang Watts Crips (HGW) are a predominately African-American street gang located in the unincorporated area of Los Angeles County near Watts. HGW started in the early 1970s by Killer Hank, Mr Rome, Dre (Sistrunk), L.A. Slim (Havest), Hat Gang Wayne, Big Blue, Mookie, Savage, and Wizard. Eric "Insane" Petersen was also an early member who also started the Compton Ave Crips (CAC), which shortly thereafter became a major rival to Hat Gang.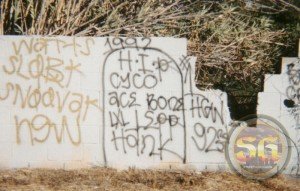 The first generation of Hat Gang members were a family gang consisting mostly of brothers & cousins.
In the early years, HGW had many fights were with the Grape Street Crips then later the 99 Watts Mafia Crips became another rival neighborhood including the Venice Shoreline Crips. Other rivals include Mona Park Compton Crips and Compton Avenue Crips.
Hat Gang allies include East Coast Crips, Front Street Watts Crips, Fudge Towne Mafia Crips, Hickery Street Watts Crip, Original Front Hood Crips, and Play Boy Gangster Crips.
Hat Gang has 92nd Street and 96th Street are their main clicks.
Deceased Hat Gang members
Ace Bone
Al Dogg
Bam
Benzo
Blue
Cartoon
Cyco aka C-Cyco
Dragon
Dre
Drocc ( – August 2013)
G-Mike
Hank aka Killer Hank
J-Star
J-Star 2
Jap (from 89 ECC)
Krazie
Lepp 2
Lobo
Mookie
Nard
Rome aka Mr. Rome
Smiley
Squirt
Taz 2