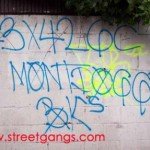 Eastside Four Tray Gangster Crips [FTGC, 43GC, Fo-Tray] are an African-American street gang located on the Eastside of South Los Angeles in the old historic Central Avenue community where the Westcoast Jazz movement flourished during the 1940s and 1950s.
The Four Tray Gangster Crips formed around 1971 as one of the first Crip gangs to break away from Raymond Washington's Eastside Crips and create their own specific identity, and they are among the first "Gangster" sets to form in Los Angeles.
They are part of the Four-Pacc alliance which includes three separate gangs, Four Deuce, Four Tray and Four Eight gangster Crips.

Deceased members from 43 GC