Eastside Grape Street Watts Crips (GSC, GST, WBLC, GSW) are a predominatly African-American street gang located on the Watts section of Southeast section of Los Angeles, California. They are specifically loctaed in the Jordan Downs Public Housing of Los Angeles.
During the 1970s, this neighborhood was called Watts Varrio Grape (WVG), which included both Mexican and Black members together. When the Mexicans aligned themselves under the Sureno banner as South Siders, the Mexican members changed their name to South Side Watts Varrio Grape Street and the Black members went by East Side Watts Varrio Grape but by around 1986/87 the new Black members were known as East Side Grape Street Watts Baby Loc Crips.
All new black members after 1987 that were from the Jordan Downs Public Housing projects went by the new name, Baby Loc Crips, but some of the new members from the Anzacs, 95th, 97th Banderas Blocc, 105s, 107s and 112s clicks do not necessarily go by the name Baby Locs. Most of the Baby Loc Crips were from the 103rd Street click in the projects, therefore new black members did not claim WVG anymore, but some old long time members of this neighborhood (pre-1987) still by habit say WVG and still have WVG tattoos.

Their main rival would be the Bounty Hunter Bloods that are loctaed in the adjacent Public Housing called Nickerson Gardens, but since the Watts truce of 1992 their rivalry has not been as intense as it was during the 1980s and early 1990s but it does flare up periodically. The truce efforts that took place in Watts in 1992 should be a great example of what can be accomplished in other areas of the city if replicated in other neighborhoods.
The Grapes have several clicks that make up the entire neighborhood that include the following: Baby Locs, Peta Roll Squad, Peta Roc Squad, Peta Loc Squad, Parolee Squad, 95th, Bandera Blocc 97, 103rd, Dust Town Crip, Dust Town Hoggs, and Tip Top.
The Grape Streets have aligned themselves with most Tray neighborhoods such as the Eight Tray Gangsters and Play Boy Gangsters, most Compton Crip sets, but they have had a tenuous relationship with the Rollin 30s Crips.
Their area goes from 97th Street (north) to 107th Street (south) between Wilmington (west) and Alameda (east). They are the largest Crip neighborhood in Watts at 0.394 square miles and the second largest overall black gang in the area, second to the Bounty Hunter Bloods.
In addition to wearing blue, they like wearing purple for grape. They are named after a north-south street in Watts, Grape Street, and 103rd is the heart of their neighborhood. They occupy the Jordan Downs Public Housing and most residents attend Jordan High School which is located adjacent to the public housing.
Grape Street Watts clicks
– Anzac Grape Street Watts Crips (different from the ones in Compton)
– 95th Grape Street Watts Crips (one way streets)
– 97th Grape Street Watts Crips-Bandera Blocc (one-way streets)
– 103rd Grape Street Watts Baby Loc Crips (in the Jordan Downs Housing Projects)
– 105th Grape Street Watts Baby Locs (New Homes, Blue Gate Baby Locs)
– 107th Grape Street Watts Baby Locs Crip (off of Santana-the original street)
– 112th Grape Street Watts Crip (near Willowbrook St. near the train tracks)
– Dustown Hawgs
– Real Bo$$ Playaz
– East Side Kids
– Ten-Tray Ballaz (they live in the Blu-Gates)
– Parolees
– Playville
– Tip-Top
The Peda Roll Mafia click changed in 2006 to Peda Roll Squad, and they have no allegiance or relations with the "Mafia" Crip alliance.
A history of Grape Street was published in issue #2 of Allhood Magazine.
The Grape Streets made news headlines when Wayne "Big Honcho" Day was arrested in Minnesota on federal drug charges in 1996 and later convicted of narcotics violations and sentenced to 250 months in federal prison. He was released from prison in 2007.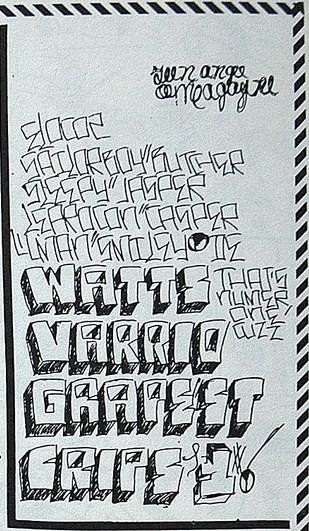 In 2008 Attorney General Michael B. Mukasey announced a 10-count indictment against several alleged members of the Grape Street Crips for possession of PCP and hundreds of gallons of highly toxic precursor chemicals used to manufacture PCP. According to the 10-count indictment, the PCP manufacturing and distribution ring was led by Alphonso Eugene Foster, 38, a senior member of the Grape Street Crips, along with Kim Vernell Walker, 45, a long-time member of the Santana Blocc Crips.
The defendants charged in the primary 10-count indictment are as follows:
-Alphonso Eugene Foster, also known as "Al Foster" also known as "G-Al." 38
-Kim Vernell Walker, also known as "Plex," 45
-Michael Edward Baker, also known as "Butter," and "B-Mike," 33
-Latera Kyesha Lashana Odom, also known as "Kisha," 25
-ML Scott, also known as "Rainbow," also known as "Bow," 43
-Kelvin Benn, also known as "Down," 31
-Ronell Napier, also known as "Foe," 38
-Darcell Morris, also known as "D," also known as "Da," and "Dar"
-Lydia Lenora Brown, also known as "Lydia," 49
-Johnnie Lee Boyd Sr., also known as "John Lee," 47
-Charlotte Wright Jackson, also known as "Charlotte," 46
-Jamilah Latifa Terrell, also known as "Porky," 26
-Anthony Rondele Robinzine, also known as "Bam," 38
Deceased members of Grape Street Crips in Los Angeles

8-Ball
Branden "Be-L" Bullard, 25, (October 27, 1981 – January 27, 2008), shot and killed by East Coast Crip member
Jerome "Bone" Dunn, 21 (Jul 20, 1960 – Mar 25, 1982), shot & killed on 88th Place and McKinley Avenue while riding bicycle. Barry "Big Time" Williams, from 89 Family Swan Bloods was convicted for this murder. He mistaken Dunn for Silky from Avalon Gardens Crip member according to court documents. Williams was also found guilty of another murder and sentenced to death. In 2015 Williams had his convictions over turned and he is currently filing motions with the court to be released.
Butcher Loc
Carter Loc
Chub
Tiny Crazo
Kenneth "Crow aka Kenny Crow Loco" Day, 26 (April 2, 1961 – November 27, 1987), shot and killed during a car jacking for his vehicle.
Big De
Devo
Dirty C
Lil Down Down, (November 15, 1990 – April 4, 2007)
Eddie "Eddie Boy" Simpson, 22, (May 3, 1963 – March 4, 1986)
G-Al
Geo
Gus Loc
Hate
High Tower
K-Loc
Kodak
Dashon "Loccey" Rasberry, 19 (February 14, 1992 – August 27, 2011), was shot and killed at 2148 E. 102nd St. in the Jordan Downs Housing Projects.
Macc
Raymond Lee "Mafia Ray" Arnold, 32 (December 24, 1984 – July 16, 2016), shot and killed at Updeh Cutz Barber shop at Crenshaw and El Segundo in the city of Hawthorne
"Mickey" Chamberlin
Jerome "Mr. Bone" Dunn, 21, (May 23, 1960 – March 25, 1982)
Pine Yine
Purplerain
Lil Rob
OG Darryl "Stomper" McCall, 20, (July 18, 1961 – December 13, 1981)
Lil Tank
Tee Roy
T Mac
Kejuan "Tweeter 9" Bullard, 23, (October 4, 1984 – March 19, 2008)
Wino
Young