Rollin 30s Original Harlem Crips [Dirt Gang, Original Harlem Crip, Rollin 30s, OHC, RTC] are a predominately African-American street gang located in the Jefferson Park area of South Los Angeles. They were originally known as the Harlem Godfathers during the early 1970s making them one of the oldest Crip sets on the westide of Los Angeles.
Beginning from the Jefferson Park area of Los Angeles, the Rollin 30's consist of the Avenues, Denker Park, 35th, 37th, and 39th street clicks. The oldest members come from Denker Park, 39th Street and Avenues. The 35th and 37th Street clicks emerged during the mid 1990's.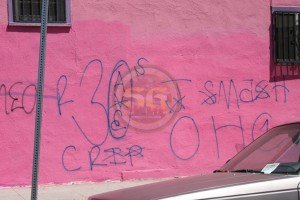 Their main rivals are the Rollin 20s Bloods to the north. Their secondary Blood rivals are the Black P Stones Bloods to the west who are located in the Jungles and the City. They have been engaged in the rivalry with the 20s Bloods since the late 1970s but they have also have been feuding with the Rollin 40s Crips to the north since approximately 1996 but that feud has diminished since 2006.
Their territory is about 2 square miles between Jefferson (north) and King Blvd (south) and Crenshaw (west) and Normandie (east). A portion of their turf extends further east to Vermont making them one of the largest black gangs geographically in Los Angeles.
A history of this neighborhood was published in Issue #3 of Allhood Magazine.
Deceased Members of Rollin' 30s Harlem Crip
Ant Dog
Ace 1
Beep
OG Bird
Boo 3
Bro 3
Blue Devil 1
Bone Head
C-Ragg 3
C-Ragg 4
Cadillac Jim
Capers
Baby Coco (female)( – 1995), Killed in attempt robbery of armor vehicle
Chrissy
Craft De 2
Crazy Flake 1
Crazy Flake 2
Crazy Keith 1
Crazy Keith 2
Crazy O
D Mac 2
Damo
Lil Damo
Lil Dave
Day Day
Dee 1
Dee 2
Dee Dee
Den 3
Dex
Jazper "Dino" Hudson, 22, (Feb. 13, 1991 – May 30, 2013)
Don Don 1
EQ 2
ET
Eddie D
Eddie Mac
Fat Mel
Fiddler
G Rocc
Ghost
OG Hawk
OG Huc-a-Buc
Herald Mac
Ice Man 3
James "Big James" Miller
Jimbo 1
Ms. Joy
Ke Ke 1
Keda Roc
Ken Bone
Killa Watt 4
Rajah "KO 1" Morris, 27 (Oct 3, 1979 – Dec 27, 2002)
Kool Aid
Lee Ratt aka Lee Lee
Lil Phil 1
Loco Boy
M-Rocc
OG Big Mel 1
Mel 2
Big Mike
Mike J
Mom Mom
Mouse
Norm
Nudie
Poochie 2
Price
Psycho 1
Ms. Pumpkin
Ric Rocc
Ron 1
Ruben 1
Ruff House 1
Sa 3
OG Shark 1
Shark 2
Snake 1
T-Fly
T-Tone
Tattoo
Tic Toc 2
TimeBomb
Tootsie Roll / T-Roll / Stevie Macc
Warlocc
Worm
Yodie 3
Yog
Kevon Earl Flowers, 24, (July 10, 1989 – February 20, 2014)