Gang member convicted of Santa Monica murders gets life sentence
Paresh Dave (Los Angeles Times) | January 9, 2014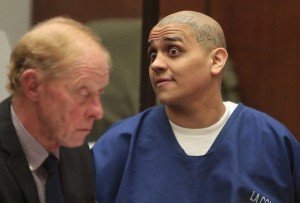 A 25-year-old man convicted of murdering two people in Santa Monica during attempts as a teenager to gun down rival gang members was sentenced Thursday to life in prison without the possibility of parole.
Jose Contreras Zapien Jr., was also given a prison term of 95 years to life by Los Angeles County Superior Court Judge George Lomeli.
"His life is characterized by his pride for his gang, but the strongest and most despicable trait he has is irreverence for human life," said L.A. County Deputy Dist. Atty. Andrew Cooper.
Zapien was allegedly seeking retribution for the 2004 killing of his Sotel gang friend, Alain "Racoon" Castillo, at the hands of the Santa Monica 13 gang. Prosecutors accused Zapien in five separate shootings spanning two years.
After a two-week trial, a jury in November deliberated only five hours before finding Zapien guilty of two counts of murder, 12 counts of attempted murder and several special firearms and gang allegations.
In the courtroom Thursday, Zapien, bounced and laughed in his seat with his eyes perked wide open. The judge admonished Zapien for smiling as a victim's mother spoke, with his 2-inch-tall jail-acquired tattoo of "Sotel" along his hairline facing her.
"I was waiting for this day because it was not fair that they killed my son," Armita Lopez told the court during a four-sentence speech about her slain son, Eddie.
Zapien was swept up in 2007 along with seven other suspects for acts that Santa Monica police said "terrorized" their community, including the February 2006 slaying of Eddie Lopez, who was described by classmates as a well-liked, athletic and comedic 15-year-old at Santa Monica High School. He was remembered in a memorial and peace march that drew hundreds of people.
At about 9 p.m. on the night of his death, Lopez had gone with friends Ismael Tony Velasquez and Michael Arceo to buy food from a liquor store near Pico Boulevard and 26th Street. As they ate in the parking lot, Zapien popped out from behind a wall, fired at them and then fled by car.
Read more at: http://www.latimes.com/local/lanow/la-me-ln-gang-member-sentenced-life-prison-santa-monica-murders-20140109,0,3406964.story
Photo credit: Bob Chamberlin / Los Angeles Times