Cuatro Flats gang member wanted by the FBI
January 12, 2010 | 1:15 p.m.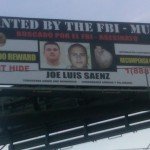 The Federal Bureau of Investigation (FBI) has purchased a Los Angeles billboard as part of its ongoing publicity campaign to find and capture Joe Luis Saenz, a fugitive on the FBI's national list of "Ten Most Wanted Fugitives," announced Steven Martinez, Assistant Director in Charge of the FBI in Los Angeles. The billboard will be visible to vehicles traveling near the intersection of Cesar Chavez and Soto Avenues in the city of Los Angeles. The billboard displays three photographs of Saenz and contact numbers for the FBI in Los Angeles.
Jose Luis Saenz first came to the attention of law enforcement when LAPD detectives identified him as the suspect in the 1998 murder of two men in the Hollenbeck area of Los Angeles. Less than two weeks later, Saenz is believed to have kidnapped, raped, and murdered his girlfriend, who was also the mother of his child.
Saenz was charged with three counts of murder, kidnapping, and rape for the 1998 alleged crimes, and an arrest warrant was issued by the Los Angeles County Court on August 12, 1998. When detectives with the Los Angeles Police Department determined Saenz had fled the state of California, the FBI joined the investigation and obtained a federal arrest warrant on January 23, 2002. Saenz was charged in a criminal complaint filed in United States District Court in Los Angeles with Unlawful Flight to Avoid. Investigators believe Saenz travels to Mexico frequently and may be residing there currently.
The latest murder for which Saenz is wanted occurred in October 2008 when Oscar Torres was killed in his Whittier home. Detectives with the Los Angeles County Sheriff's Department believe Saenz murdered Torres in connection with a drug debt. Saenz is also wanted for shooting and wounding a second man on the same evening. The Torres murder was captured on the victim's home surveillance videotape system and Saenz was identified as the killer.
Saenz has been described by gang associates and others as a major enforcer and hit-man for a Mexican drug cartel who is believed to be involved with importing cocaine into Los Angeles. In addition to the murders for which Saenz is currently charged, he's wanted for questioning about additional crimes, including kidnapping and murder.
Saenz is considered a career criminal and is a known repeat offender. Saenz is also wanted for violation of his parole for a 1995 narcotics possession conviction. In addition, he has an extensive criminal history, including motor vehicle theft, assault with a deadly weapon, vandalism, and possession of narcotics.
Saenz should be considered armed and extremely dangerous. According to individuals interviewed throughout the investigation, Saenz has expressed a willingness to kill law enforcement officers if confronted with arrest.
Saenz was born on 8/4/75 in Los Angeles. Saenz has brown hair and brown eyes, is approximately 5'11″ to 6'00″ in height and, when last seen, weighed approximately 180 lbs. Saenz is believed to be a member of Cuartro Flats gang and he is an American citizen.
The FBI is offering a reward of up to $100,000 for information leading directly to the capture of Joe Luis Saenz. All information will be kept confidential. Saenz was added to the FBI's list of Ten Most Wanted Fugitives in October 2009 and is the 492nd person to be added to the historic list, now in existence for over sixty years.
———————————————————
Alex Alonso is an author, film maker and founder of Streetgangs.com. He is also a contributing author in the 2010 book entitled "Black Los Angeles: American Dreams Racial Realities" (New York University Press). He can be reached via email, at 800-249-1324, or on Twitter.
Posted by
StreetGangs.Com Staff
on Jan 12 2011. Filed under
Features
. You can follow any responses to this entry through the
RSS 2.0
. You can skip to the end and leave a response. Pinging is currently not allowed.