Gang Injunction placed on another Anaheim gang
By Stefani Camille
www.streetgangs.com staff writer
January 17, 2013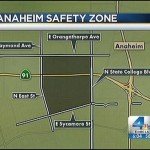 Anaheim receives another gang injunction against one of its violent gang on Wednesday. This is the 4th gang injunction slapped onto an Anaheim gang, and the 12th issued in Orange County. This injunction is the result of legal and investigative work that started in March 2012 following years of violent gang crime and residents' complaints.
A gang injunction is a civil order that restricts or prohibits documented gang members from congregating in designated zones of the city. Basically, the injunction makes the area in question a gang free zone or "Safety Zone" to it's neighbors and the community.
The gang named Eastside gang and its members are barred from standing, sitting, walking, driving or biking through a 1 square-mile safety zone stretching from Orangethorpe Avenue to Sycamore Street and from East Street to State College Boulevard.
The Orange County District Attorney's Office announced the injunction on Wednesday and was signed by Judge Charles Margines. Anaheim Police will enforce the injunction. The injunction is a cooperative effort between the OCDA and the Anaheim Police Dept. If a gang member violates the terms of the injunction, which target intimidation and harassment, he or she may be arrested and face prosecution.
Tags:
ahaheim police
,
districta attorney
,
eastside gang members
,
gang crime
,
gang injunction
,
gang members in anaheim
,
gang violence
,
gang-free zone
,
ocda
,
orange county
,
safety zone