Unearthing the Secret History of 'LA's Deadliest Punk Rock Gang'
By Patrick Lyons | Vice.com
January 17, 2016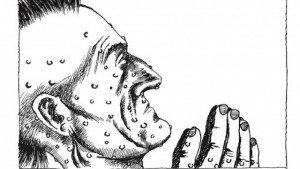 Punk music changed forever when it hit LA. Tempos became faster, bands became meaner, violence began to spiral out of control. Rose-tinted history remembers the revolutionary effect of punk culture—the DIY ethos, resistance to police harassment, widely influential music—but what's largely forgotten is the body count it left behind. Here, concerts became proving grounds for warring gangs who hailed from different corners of the city. The Burbank Punks Organization, Long Beach's Vicious Circle, the East Side Punx, and other crews who associated themselves with the budding music scene wrestled for turf and street cred through despicable acts of public powerviolence.
Most dangerous of all were La Mirada Punks, a gang that quickly grew in notoriety in the 80s. Hailing from an East LA suburb that was infested with gangs long before punk took root, this coalition of troubled kids was mentored by an old veteran of a cholo gang and bonded over punk's confrontational image and antiestablishment stance. LMP members attended shows en masse, but often seemed to be there out of bloodlust rather than any sort of musical appreciation. Whether it was stabbing an innocent bystander or humiliating a band's frontman by trapping him in a trash can for hours, tales of LMP's indiscriminate violence spread like wildfire throughout the punk scene in the mid-80s.
Read more here:http://www.vice.com/read/unearthing-the-secret-history-of-las-deadliest-punk-rock-gang-666
Posted by
stef
on Jan 17 2016. Filed under
Entertainment
,
Features
,
Homicide
. You can follow any responses to this entry through the
RSS 2.0
. You can skip to the end and leave a response. Pinging is currently not allowed.