Tricked into Silly Interview with Wanna Be Gangster Ali G of Britain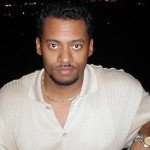 By Alex A. Alonso (Streetgangs.com)
March 12, 2002
LOS ANGELES – During the last few years I have appeared on several radio and television programs in the United States, England, Canada and Japan. There are many shows that I have declined to appear on either because I felt that the subject matter was not being treated seriously or the producers were not willing to compensate me for my time. I will not appear on comedy shows or exploitative magazine shows that want to use the subject matter more for entertainment purposes rather than educational value.
But I was surely tricked into appearing on one of the most silliest programs in Britain and apparently one of the most popular variety shows in their country hosted by Ali G (Sacha Baron Cohen). Because Ali G is not well known in the US, he and his producers were able to convince me to do an on camera interview for his program. If you are not familiar with Ali G, you may have noticed him as the limousine driver in a recent Madonna video named Music.
I was contacted by Chloe Court of TalkBack Productions from London about an idea that they had regarding Los Angeles gangs for purposes of educating the English youth about gangs and informing the general public about how destructive street gangs have been for many American youth. I thought that this was a decent topic and agreed to participate. They claimed that the name of the show was "The Message," a working title, which is a late-night factual-entertainment program, which turned out to be a lie. The name of the show was "The 11 O'Clock Show" on NBC and they were already in their second season of conducting ridiculous interviews with unsuspecting guest, such as myself. [View initial letter from TalkBack Productions to Mr. Alonso – 172 k PDF].
When I finally met Ali G, which was moments before the interview was to begin, I sensed that this guy had another plan. He was dressed in yellow athletic apparel with a matching head beanie and large goggles. I knew that this chap could not be taken seriously and I was not prepared for the questions he was about to ask. After the interview began, I was not sure how to behave, because he was asking some really silly questions, I wanted to laugh, but I just maintained a calm demeanor and continued to do the interview. It turns out that Ali G, the character that Mr. Cohen created is a spoof gangster from the West End Massive that communicates a bizarre street lingo, heavy with slang and plenty of accent.
Other Americans that have been unsuspectingly interviewed by Ali G include former Secretary of State Alexander Haig(1981-82 under Ronald Reagan), Professor Alan Dershowitz of Harvard Law School, Admiral Stansfield Turner and former head of the CIA, and Emeritus Professor of Economics at Harvard John Kenneth Galbraith.
One website describes him as:
He's the most talked-about comic on television: a Jewish, Cambridge-educated white man who plays an uneducated, misogynistic, black man from Staines. Now a number of black comedians have taken offense.
The interview took place in Los Angeles on the streets of South LA in 1999 and the laugh tracks were added after. How do you think I did?
Posted by
alexalonso
on Mar 12 2002. Filed under
Features
. You can follow any responses to this entry through the
RSS 2.0
. You can skip to the end and leave a response. Pinging is currently not allowed.