Interview: Rollin' 40s Crip on possible Hoover truce
By Alex A. Alonso for Streetgangs.com
March 14, 2010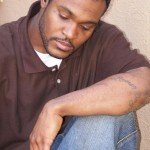 Baby Runner, aka Double R (Road Runner) is from Rollin 40s Crip and you may have seen him in the documentary "Why We Bang." We caught up with Double R to ask him what is going on in his life. Although he is cool with Bloods & Crips from various neighborhoods, he has not been able to remedy the rivalry with the Hoovers, their number one enemy.
Because he has lost friends as a result of the rivalry with the Hoovers, not just Double R, but countless individuals cannot forgive the loss of a close friend. Double R makes an interesting distinction between the hard core member and the average member of the gang that's not out there killing. At 2:27 of the clip he states that if the rival member is a "mark" then he has no problem with him, a "mark" meaning that he is not a rider, killer, or a hard core member of that set.
Part of the 40s Crip neighborhood in Los Angeles goes east to the 110 Freeway and they are geographically close to the 52 Hoover Gangsters.
Posted by
alexalonso
on Mar 14 2010. Filed under
Features
. You can follow any responses to this entry through the
RSS 2.0
. You can skip to the end and leave a response. Pinging is currently not allowed.