Armenian Power members facing RICO charges
By Alex A. Alonso
Streetgangs.com Staff Writer
March 19, 2011 10:09 p.m.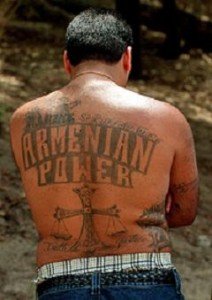 Last month the federal government announced a major crack-down against the Los Angeles based Armenian street gang, Armenian Power. Federal authorities charged 74 alleged AP gang member in what they are calling "Operation Power Outage" on kidnapping, extortion, bank fraud, ATM machine tampering and credit card fraud that generated $10 million.
Many of those arrested have been charged under the United States RICO act (Racketeer Influenced and Corrupt Organizations), which carry severe penalties for those found guilty.
The gang that has roots to East Hollywood and Glendale, have evolved, according to the US Attorney's office, into a crime organization connected to Mexican gangs and international crime groups in Eastern Europe and Russia. It is one of the few white street gangs that operate within the City of Los Angeles.
According to United States Attorney André Birotte Jr.
"The indictments that target the Armenian Power organized crime enterprise provide a window into a group that appears willing to do anything and everything illegal to make a profit." An additional indictment charges an additional 20 member in Orange County.
Posted by
alexalonso
on Mar 19 2011. Filed under
Features
. You can follow any responses to this entry through the
RSS 2.0
. You can skip to the end and leave a response. Pinging is currently not allowed.