Why do young people love to gang-bang?
Gang Bang
By Brandon Dixon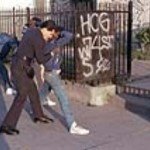 It's a shame the way we love to gang bang.
Growing up in an environment where niggahs slang caine,
struggling, tryin' to survive
on another niggah's high.
Things seem to never change,
just time, dates, faces, places and the way the game is played.
All bitches is loving you for' what you got,
and the niggahs is hatin' and plottin' on tryin' to take your knot.
It's a shame the way we love to gang bang.
Niggahs rep they hood to the fullest, rather it be a Crip, Blood, or Hustler gang.
As he rolls through the enemy's hood, tryin to make a name for himself, he hangs out the window, the ground catches his fall.
Now, they're gaspin' fo' their last breath.
Drops of blood turns into pools,
mothers at their child's side screaming "o lord why?"
It's a shame the way we love to gang bang.
Back in the day homies looked out for those in the pen for representin' da hood.
All was one.
Now, homies is out for self, rollin with inner hood clicks.
Niggah's is snitchin' at will, busters is getting all the funds, and living off the rep of the real ones,
homegirls representin' and is harder than most niggahs.
This poem was reprinted with the permission of the author Brandon Diixon, Copyright © 2005. Brandon Dixon (#K58547) is an inmate at Sacramento State prison in Repressa, California who was once a gang member with the Rollin' 60s Crips from South Los Angeles.
Posted by
StreetGangs.Com Staff
on Apr 12 2011. Filed under
Features
. You can follow any responses to this entry through the
RSS 2.0
. You can skip to the end and leave a response. Pinging is currently not allowed.