Mexican-American gang member from Compton expresses racist tendencies
By Alex A. Alonso
Streetgangs.com Staff Writer
April 29, 2012 | 11:16 a.m. PST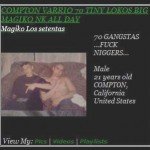 While examining the social networking website, Myspace, I noticed a page of a person claiming Compton Varrio 70, that posted racial hate messages. In the title of the page it states, "COMPTON VARRIO 70 TINY LOKOS BIG MAGIKO NK ALL DAY."
Compton Varrio 70 are also known as Compton Varrio Setentas and they have had recent conflict with black gangs in Compton. The CV70s are among the city of Compton's oldest street gang.
The myspace user, who goes by the name of Magik, is claiming the click, or subset of the gang known as Tiny Lokos. He also goes by Big Magiko, but what is most disturbing about this user's page is the "NK" reference.
On the streets of Los Angeles, members from some gangs such as the Avenues, 204th Street, Canoga Park Alabama, and some factions of 18th Street have made the same reference in recent years. Whether it's in their graffiti, on a social networking web site, and in some rare instances, tattooed on their body, the NK means the same thing and that is Nigger Killer.
During the mid 1990s, black and Mexican street gangs in Los Angeles that previously never had any conflict began to feud, and by the late 1990s, the conversation about Black & Brown tensions in Los Angeles intensified.
Although there is a perception that Mexicans and Blacks are at war in Los Angeles, this conflict is isolated to just a few communities throughout then entire county and most instances the conflict is rooted in traditional gang conflict and not based on racial animosity. Nevertheless, some gang members, such as Magic from CV70, reveal their racist ideologies.
CV 70 has had rivalries with African-American gangs in Compton such as Spook Town Compton Crips, Acacia Blocc Compton Crips and Nutty Blocc Compton Crips, but these rivalries are isolated to specific gangs and there is no widespread animosity against all black gangs in Compton.
Although Magic, clearly does not like blacks, I am certain that this is not a sentiment that most of the membership of CV70 have. Magic most likely has friends from his gang that interact with blacks on a regular basis, but unfortunately, his friends are not going to call him out or judge him harshly for his racist sentiments.
This racist ideology, for some Mexicans is rooted at home, and gang members from those families try to get others within the gang to have similar racist feelings towards blacks. Weak minded gang members will succumb to the peer pressure and follow along, while others will never adapt that ideology.
When gang members proudly express NK as Magic does, this provides the ammunition that prosecutors need to charge gang members with a hate crime when they engage in what may actually be a gang crime.
In 2010, 204th Street gang members Jonathan Fajardo was found guilty of the 2006 murder of Cheryl Green, 14. The jury also believed that the murder was racially motivated, and prosecutor, Gretchen Ford had plenty of NK references to convince a jury that Fajardo was part of a racist gang.
During the trial I did not believe that Fajardo killed Green because of race. It was revealed that Fajardo was attempting to shoot two Black males, when Green was accidentally struck as she was standing in a driveway. Additionally, there was evidence that a black male had threatened Fajardo earlier that day at the Del Amo Market.
The smaller 18-year old, ran off, and probably humiliated, retrieved a gun from fellow 204th gang member and returned for revenge. He found a group of blacks which he believed was part of the earlier incident, and began to fire, hitting Green who was standing in a driveway between him and the males that he also shot.
The prosecutor never showed the jury any racist expressions that was attributed to Fajardo. They never uncovered a website, tattoos, graffiti that linked Fajardo to any racist taunts, but apparently racist expressions by other gang members was enough to find Fajardo, who was actually half Belizean with black family members, guilty of a hate crime. He was sentenced to death by Judge David Wesley and is currently incarcerated at San Quentin's death row.
—————————-
Alex Alonso is an author, film maker, founder of Streetgangs.com, and a criminal trial consultant. He is a contributing author in the book Black Los Angeles: American Dreams Racial Realities (New York University Press). He can be reached via email, or on Twitter.
Posted by
alexalonso
on Apr 29 2012. Filed under
Features
. You can follow any responses to this entry through the
RSS 2.0
. You can skip to the end and leave a response. Pinging is currently not allowed.