Are there Bloods & Crips in South Philadelphia?
Posted on Wed, Apr. 21, 2010
By Alex Alonso
STREETGANGS.COM STAFF WRITER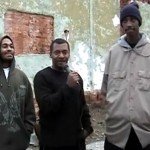 SOUTH PHILADLEPHIA — Reporting from the inner city community of South Philadelphia on 18th Street and Dickinson I met up with rappers Kevlar and Lido Gambino back in 2004. They talk about life in South Philly and Lido Gambino spits a wicked rap about South Philly style and raps about he "wants to get away with murder like OJ" – a must hear rap. Of course these lyrics, like most lyrics you hear from rappers are not to be taken literally. They are for theatrics and entertainment pleasure, but I wanted to ask some serious question about the presence of street gangs in Philadelphia.
Both rappers denied that there are street gangs in their communities in the sense that Los Angeles and Chicago has street gangs, but they did state that youth hang together in groups which is very similar to how some define a gang. In Pittsburgh the Law is a street gang that was been known for sometime but there was not identifiable presence of Los Angeles type gang bangin' in Philadelphia even though their crime rate is one of the worst in the nation.
Posted by
alexalonso
on Apr 21 2010. Filed under
Features
. You can follow any responses to this entry through the
RSS 2.0
. You can skip to the end and leave a response. Pinging is currently not allowed.