Off Broadway play about gang involved immigrant youth inspired by work of FBI targeted peace activist Alex Sanchez
Play now part of recent nationwide campaign to see Mr. Sanchez get a fair trial in federal court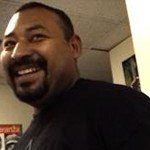 April 27, 2010-New York, NY – As the opening night of the new play about gang involved youth, "De Novo," is celebrated in New York tomorrow, community activists are using this and other opportunities to call for justice for renowned anti-gang activist Alex Sanchez. The highly anticipated play follows the story of a young Guatemalan who faces deportation from the United States due to a prior history of gang involvement. "Alex Sanchez was an advisor on the development of this play, which deals with a young man trying to condition out of gang life – work that Alex is passionately committed to – and takes a close look at the demonization of youth who have been involved with gangs," said Emily Weiner, Co-Artistic Director for Houses on the Moon, producers of the play "De Novo."
While he has been a leader on issues of peace and reconciliation for over a decade Mr. Sanchez recently became the target of a Federal Bureau of Investigations (FBI) charge alleging that he is a shot-caller for the notorious MS gang. However, Mr. Sanchez is the co-founder and has since 2006 been the Executive Director of Homies Unidos, an organization aimed at reducing gang activity in Los Angeles and finding resources for former gang involved youth. Since Mr. Sanchez's original arrest over nine months ago, communities all around the country have come out to show their support for his life, work and to join him in the struggle to clear his name.
One such effort occurred recently in New York when over 100 students, community members and leading researchers participated in a conference at John Jay College on Wednesday, April 7th titled: Fighting the Criminalization of Youth, Immigrants and Activists: Analyzing the Case of Alex Sanchez. Similar to "De Novo's" themes, the conference highlighted the case of many social justice workers like Sanchez who face deportation due to interactions with the criminal justice system and former gang involvement.
"We are reminded that We Are Alex exists not only because the case of human rights defender Alex Sanchez poses a threat to the ability of all peacemakers to do their work, but because our strength is in our collaboration which is the coming together of fiercely intelligent and kind people committed to peace, truth and justice. This conference proves that," commented Monica Novoa, Homies Unidos board member and an organizer for We Are Alex, a coalition that formed after Mr. Sanchez was detained by the FBI last summer.
The conference concluded with the signing of a resolution directed at U.S. Attorney General Holder, demanding that all charges against Mr. Sanchez be dropped. The resolution points out the weak evidence gathered by LAPD Detective Flores and the FBI. The evidence which was used to arrest and charge Mr. Sanchez was based primarily on months of wiretapping and has largely been discredited by supporters and objective sources alike.
"[The] conference was made possible through the collaboration between scholars, community organizers, and youth intervention workers from Los Angeles and New York. The conference was a testament to Alex Sanchez's ability to use his life experiences to bring people from all walks of life together and to take action on issues of peace and social justice." said Dr. Alfonso Gonzales, an Assistant Professor at New York University.
"Alex is passionate and committed to fighting for justice for youth and immigrants. His work in Los Angeles has inspired advocates and community groups working to transform the criminal justice and deportation systems. Alex's collaboration in the development of this play is just one example of his tireless efforts to expose the injustices many immigrants and young people of color face everyday in this country," emphasized Janis Rosheuvel, Executive Director of Families for Freedom, a New York-based immigrant rights organization by and for immigrant families facing deportation.
"De Novo" opens on Wednesday, April 28 at the 59E59 theater in New York. (For tickets call 212-279-4200 or online at www.ticketcentral.com.)
###
Posted by
StreetGangs.Com Staff
on Apr 27 2010. Filed under
Features
. You can follow any responses to this entry through the
RSS 2.0
. You can skip to the end and leave a response. Pinging is currently not allowed.