IMPD: Gang recruiting ends in torture
Bill McCleery (IndyStar) | May 21, 2014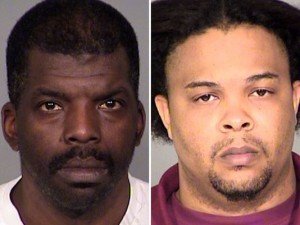 A failed attempt to entice a man into a street gang ended in torture, according to court documents.
The victim, a 20-year-old man, was held at gunpoint May 13 inside an Eastside home and handcuffed, beaten, burned with cigarettes and forced to play Russian roulette, police said.
Police arrested James Ash, 43, and Dominque McDowell, 30, both of Indianapolis. The two men have been charged in Marion Superior Court with criminal confinement, criminal gang recruitment, intimidation and battery.
Before the torture began, the victim was made to sit on the floor of Ash's home while McDowell spoke at length about the supposed perks of life as a member of the "GD," or Gangster Disciples, according to court documents. The victim apparently resisted making any commitment to join the gang, an Indianapolis Metropolitan Police Department detective wrote in court documents.
Read more at: http://www.indystar.com/story/news/crime/2014/05/21/impd-gang-recruiting-ends-torture/2309352/
Photo credit: IMPD