Mexican Mafia member arrested in Tijuana
StreetGangs.Com Staff
June 24, 2012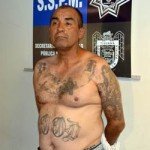 Last week, a Los Angeles fugitive and Mexican Mafia member was arrested in Tijuana, Mexico.
José Luis "El Luigi" Montellano, 52, is wanted for armed robbery, bank robbery, and probation violations in the United States.
Mexican police have been working with the U.S. Marshals to apprehend Montellano. The Mexican Mafia member was found in the colonia Salvatierra, in the southwest section of Tijuana. He had been hiding in Mexico for the last 6-months.
The Mexican Mafia, also known as La Eme is a U.S. prison gang, formed in the late 1950s in Deuel Vocational Institution in Tracy, California. Several southern California Hispanic street gangs work directly under the Mexican Mafia.
Montellano is expected to be extradited to the U.S. immediately to face prosecution.
In an unrelated case, Mexican Mafia member, Eulalio "Lalo" Martinez, who had been serving 15 years in Pelican Bay State Prison, is expected in Los Angeles court Monday morning in a pretrial hearing towards his second trial for a 1998 murder he allegely ordered from prison.
Posted by
StreetGangs.Com Staff
on Jun 24 2012. Filed under
Features
. You can follow any responses to this entry through the
RSS 2.0
. You can skip to the end and leave a response. Pinging is currently not allowed.