Oakland resident released from jail after court room outburst during Johannes Mehserle trial

By Alex A. Alonso | STREETGANGS.COM STAFF WRITER | June 29, 2010 | 3:35 a.m
updated: June 30, 2010 | 10:55 p.m.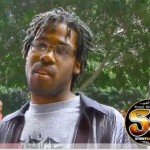 On Friday June 25, 2010, during testimony from former police officer Johannes Mehserle, Oakland resident Timothy Killings, 26, shouted out, "Save those fucking tears." Mehserle is the former BART officer who is accused of killing Oscar Grant on a train platform on January 1, 2009.
He contends that he shot Grant on accident and had no intentions of using his .40 calibur Sig Sauer firearm. While on the stand last Thrusday and Friday, he stated repeatedly the he meant to used his TASER because Grant was resisting arrest and that he believed that Grant was reaching for a gun in his right front pocket. The former BART officer began to cry on Friday while on the stand and most of the court room spectators were not moved by Mehserle's display of emotion.
During direct examination by Michael Rains, Mehserle began to sob when explaining his actions and how he confused the two weapons. Wanda Johnson, Grant's mother, got up and walked out of court in disappointment of Mehserle's emotional display. Shortly after Johnson abruptly left the court room, Killings shouted to Mehserle, and was immediately taken into custody by the Los Angeles County Sheriff's Department.
Killings was charged with contempt of court but his charge was reduced to disturbing the peace and he was released from custody on Monday. He has been barred from the proceedings and is not allowed to visit the ninth floor, where the trial is taking place.
——————————————————————————————————-
Alex Alonso is an author, film maker and founder of Streetgangs.com. He is also a contributing author in the 2010 book entitled "Black Los Angeles: American Dreams Racial Realities" (New York University Press). He can be reached via email or on Twitter.
Posted by
alexalonso
on Jun 30 2010. Filed under
Features
,
People of CA v. Johannes Mehserle
. You can follow any responses to this entry through the
RSS 2.0
. You can skip to the end and leave a response. Pinging is currently not allowed.