Are mass killers truly an American phenomena?
Loading ...
Streetgangs.com Staff
July 23, 2012 | 10:27 a.m. PST
In the early morning hours of July 20, 2012, graduate student James Holmes, 24, shot 70 movie goers killing 12, when he entered a movie theater in Aurora, Colorado with three weapons, including an AR-15. Holmes' shooting resulted in the most victims ever by an individual shooter.
He was taken into custody within minutes after the massacre by the Aurora police department. On Monday morning he made his first court appearance, looking extremely fatigued and incoherent.
On December 1, 1997 Michael Carneal, 14, opened fire on a group of praying students, killing three and injuring five more in West Paducah, Kentucky. Carneal was armed with a shotgun, rifle and a Ruger MK II .22-caliber which he easily concealed and carried into the school. He rode to school with his sister and shortly after he arrived, he inserted earplugs and fired eight rounds at a youth prayer group killing three girls and injuring five others.
Benjamin Strong, who was in the group praying, testified that Carneal dropped the gun after the shooting and surrendered to the school principal, Bill Bond. Carneal said to Strong, "Kill me, please. I can't believe I did that."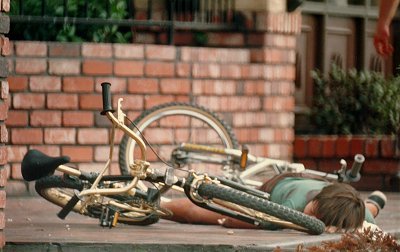 Omarr Hernandez lying next to his bicycle on July 18, 1984 became a symbol of the devastating McDonald's massacre in 1984. The 11-year old boy was among 21 people killed by James Oliver Huberty Photo by Barry Fitzsimmons
On July 18, 1984, James Oliver Huberty, 41, opened fire in a San Ysidro McDonald's restaurant, killing 21 people and injuring 19 others before he was killed by a police sharpshooter. At the time, this was the largest mass shooting in the United States history.
Huberty, an unemployed security guard dressed in camouflage fatigue pants, walked into the restaurant armed with an Uzi semiautomatic rifle, a shotgun and a pistol and started shooting.
On April 20, 1999, two senior students, Eric Harris and Dylan Klebold, at Columbine High School in Littleton, Colorado opened fire on the campus killing 12 students and 1 teacher. They also injured 21 other students with gun fire.

Eric Harris and Dylan Klebold caught on the high school's security cameras in the cafeteria shortly before committing suicide.
Three more people were injured while attempting to escape Columbine High School. At the end of the shooting, the pair committed suicide. It is the fourth-deadliest school massacre in US history.
On April 16, 2007, Seung-Hui Cho, 23, shot and killed 32 people and wounded 17 others in two separate attacks, approximately two hours apart on the campus of Virginia Polytechnic Institute and State University in Blacksburg, Virginia. Six more people were injured while escaping from classroom windows. After the shooting, Cho committed suicide. The massacre is the deadliest mass shooting by a single gunman in US history.
Seung-Hui Cho

Cho was a senior English major at Virginia Tech and had previously been diagnosed with a severe anxiety disorder. During much of his middle school and high school years, he received therapy and special education support.


John Allen Muhammad

In October 2002 in Washington, D.C., Maryland, and Virginia John Allen Muhammad, 41, & Lee Boyd Malvo, 17, were partners in a shooting spree that killed 10 people and injured several others over the course of three weeks. Muhammad was executed November 10, 2009 for his role in the murders and Malvo, who was a teenager at the time is currently serving six consecutive life sentences.
Jeff Weise
On March 21, 2005, Jeffrey James "Jeff" Weise, 16, an Ojibwe Native American adolescent, and a student at Red Lake Senior High School in Red Lake, Minnesota murdered nine people and wounded five others in a shooting spree.
The high school was located in the Red Lake Indian Reservation located in northwest Minnesota. Weise first murdered his grandfather and grandfather's girlfriend at his trailer home in Red Lake, an unarmed security guard, a teacher and five students at Red Lake Senior High School. The shooting ended when Weise committed suicide.
Patrick Henry Sherrill
August 20, 1986, in Edmond, Oklahoma, Patrick Sherrill killed 14 people at his workplace of the United States Post Office. Sherrill was armed two .45 caliber pistols at his workplace before turning one of the guns on himself and committing suicide. Six other employees were wounded during the shooting and it was reported that postal employees ignored numerous signs of Sherrill's unstable and hostile attitude.
Sherrill, a postal employee, went on the shooting spree after being reprimanded by his supervisors. He then killed himself.
Tags:
AR-15
,
Aurora
,
Aurora Colorado
,
batman
,
Batman movie
,
Colorado
,
Colorado shooting
,
denver
,
gun control
,
guns
,
homicide
,
james holmes
,
killer
,
murder
,
Nueroscience
,
PhD Candidate
,
spree
,
theater shooting
Posted by
StreetGangs.Com Staff
on Jul 23 2012. Filed under
Features
. You can follow any responses to this entry through the
RSS 2.0
. You can skip to the end and leave a response. Pinging is currently not allowed.