VIDEO: Anaheim Police shoot unarmed 25-year-old man
Streetgangs.com Staff
August 2, 2012 | 10:38 p.m. PST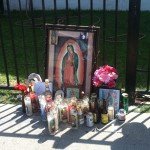 During the aftermath of the kil#i*gg of unarmed man, Manuel Angel Diaz, by an Anaheim police officer, a video of his dying body has emerged. It shows Diaz, 25, laying on the grblank in front of an apartment building after being shot twice, including one to the back of his head, according to recent reports.
According to the Police, they were pursuing three suspects into an alley at about 4 p.m. Saturday July 21 when they chased Diaz. The man was confronted by an officer at the front of an apartment complex, where he was shot. Diaz later died in the hospital, while the two other suspects managed to evade the police.
Anaheim Police would not say what led the officer to shoot Diaz at the front of an apartment complex, and cited an independent investigation by the county's district attorney office.
The police have released information that Diaz is a gang member and even though most gang members are not violent offenders, some people have already accepted the police department's version of events.
Posted by
StreetGangs.Com Staff
on Aug 2 2012. Filed under
Features
. You can follow any responses to this entry through the
RSS 2.0
. You can skip to the end and leave a response. Pinging is currently not allowed.