Colonia Chiques gang members arrested on federal drug charges
By Alex A. Alonso
Streetgangs.com Staff Writer
November 7, 2011 | 11:49 a.m.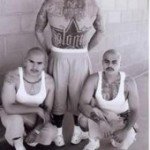 LOS ANGELES – In what federal authorities are calling Operation "Supernova," three defendants were arrested last week on federal drug distribution and firearms trafficking charges following an undercover operation in Camarillo, where a Colonia Chiques street gang member, Luis Manuel Tapia, was in possession of 10 pounds of methamphetamine and four kilograms of cocaine. Those drugs were to be sold to undercover agents for $200,000. Even though the Oxnard based Chiques gang is not organized in a leadership structure, the federal authorities are characterizing Tapia, as a leader of the Colonia Chiques.
The Colonia Chiques, formed in the 1970s, and according the to local police, the gang has more than 1,000 documented members, which is the same figure the police published back in 2004 when the City attorney successfully filed a gang injunction against the Colonia Chiques.
This drug trafficking investigation was the second part of the enforcement where 11 defendants have been previously convicted and received sentences of up to 25 years in prison. There are currently six defendants charged with conspiracy to distribute methamphetamine and conspiracy to sell firearms without a dealer license. The defendants named in the current criminal complaint are:
– Luis Manuel Tapia, 35, of Ojai, a Mexican Mafia associate, who is alleged to be principally responsible for the narcotics and firearms transactions alleged in the complaint;
– Diana Sophia Zamora, 23, of Camarillo, an associate of the Colonia Chiques gang, who was arrested yesterday at the site of the methamphetamine deal and is accused of assisting Tapia with firearms and narcotics transactions;
– Edgar Rafael Aguilar, 29, of Oxnard, a Colonia Chiques member, who was arrested yesterday at his home in Oxnard, and who in August was allegedly in possession of nearly one pound of methamphetamine he had obtained from Tapia's stash house;
– Roger Gonzales Armendariz, 35, of Oxnard, a Colonia Chiques member who is currently in state custody and who allegedly sold guns to undercover operatives and assisted in Tapia's narcotics transactions;
– Jaime Cardenas, 19, of Oxnard, who is currently a fugitive; and
An unknown male who allegedly supplied narcotics to Tapia.
In addition to the arrests, law enforcement authorities had also seized an AK-47 and sawed-off shotgun from one of Tapia's residences. Other allegations in the complaint state that in September Tapia met with undercover FBI agents in Las Vegas and negotiated the methamphetamine and cocaine deal with an unknown male.
The affidavit describes a number of incidents over the past seven months, including a June traffic stop in which Zamora was driving Tapia's car that allegedly had contraband in a hidden compartment, including 2.52 pounds of heroin, 9.2 ounces of cocaine, 9.6 ounces of methamphetamine, cash and two loaded firearms. If found guilty, Tapia could receive 25 years in prison.
Posted by
alexalonso
on Nov 7 2011. Filed under
Features
. You can follow any responses to this entry through the
RSS 2.0
. You can skip to the end and leave a response. Pinging is currently not allowed.