Rapper Big Paybacc gunned down in a Palmdale McDonald's
By Stefani Camille
WWW.Streetgangs.com
November 07, 2014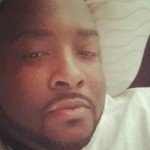 Big Paybacc seemed as a gentle giant when I first met him in NoHo in the summer last year for an interview with Streetgangs. Yesterday, someone took his life as he sat inside a McDonald's restaurant in Palmdale during lunch hour.
Police say it was not a random shooting. Someone came gunning for the rapper. He was shot in the torso and was pronounced dead at the scene. He was alone.
Born Habib Ameer Zekajj, 38, was on his rap grind making big moves in Cali, despite the struggle to make it big. His YouTube videos have gotten popularity which has gotten him a large following, with at least a half-million views.
Paybacc was pushing the Gangsters Got Next movement, which includes several local rappers, such as Lil Sodi, Tee Gee, and H Crown. All of which we have interviewed.
There isn't a known motive at this time according to police but there is a surveillance tape that will be reviewed.
Streetgangs had plans to meet up with Big Paybacc on a follow up interview.
Big Paybacc will be missed!