Gang Members from Ventura County linked to Mexican Mafia charged for Drug Trafficking
Streetgangs.com Staff Writer
November 20, 2013 | 2:55 p.m. PST
Operation "SuperNova" is Targeting Gang-Related Drug Trafficking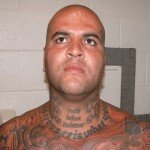 LOS ANGELES – In the third phase of Operation "SuperNova," a multi-agency task force investigation has charged 17 people following an investigation by a task force comprised of the FBI; the Ventura Police Department and the Oxnard Police Department. Following arrests this morning most defendants named in a federal criminal complaint unsealed this morning are now in custody.
Several teams of police officers and federal agents executed arrest and search warrants early this morning and took six defendants into custody without incident. Eight of the 17 defendants charged were already in custody based on unrelated charges and soon will be brought into federal custody. The remaining three defendants charged in the complaint are fugitives, some believed to be residing in Mexico, where they allegedly direct the narcotics-trafficking activity alleged in the complaint.
The criminal complaint details a year-long undercover investigation and outlines a series of narcotics transactions that led to the seizure of more than two pounds of methamphetamine and quantities of heroin that were being sold on the streets of Ventura County. The complaint alleges that the drugs were supplied by a Mexican drug trafficking organization controlled by Mexican Mafia member Martin Madrigal-Cazares. Local street gangs allegedly communicated with the head of the organization in Mexico, while controlling narcotics sales and collecting "taxes" on behalf of the Mexican Mafia in Ventura County.
This case targeted the "shotcallers" of Ventura County and Oxnard street gangs — including Lemonwood, Surtown and Ventura Avenue Gangsters — whose members control the drug trade in their respective territories. The defendants charged in the complaint (with the exception of Cazares) are residents of Ventura, Oxnard, Camarillo and Moorpark. Those named are:
• David Acosta, 33, in custody;
• Daniel Armendariz, 38, arrested today;
• Pedro Arrieta, 42, arrested today
• Robert De La Cerda, 35, in custody
• Lina Fuentes, 35, fugitive;
• Daniel Gonzales, 40, in custody;
• Philip Guerra, 28, arrested today;
• Ruben Hernandez, 20, in custody;
• Alejandro Herrera, 38, in custody;
• David Leal, David, 44, arrested today;
• Martin Madrigal-Cazares, 38, a fugitive believed to be residing in Mexico;
• Dillon Mansell, 21, in custody;
• Armando Molina, 30, arrested today;
• Edwin Mora, 29, in custody;
• Librado Navarrete, 27, a fugitive;
• Frank Ruiz, 32, arrested today; and
• Javier Tamayo, 35, in custody
As a result of the first phase of Operation Supernova in 2011, 11 defendants were convicted and received sentences of up to 25 years in prison. In the second phase of Operation Supernova in 2012, six defendants were charged in connection with conspiracy to distribute methamphetamine and illegally sell firearms. The total seizure for the three-phase operation totals 18 pounds of Methaphetamine, five kilograms of cocaine, six pounds of heroin and 46 firearms.
The defendants named in the complaint are charged conspiring to distribute methamphetamine and, if they are convicted, each would face a mandatory minimum sentence of 10 years in federal prison and statutory maximum sentences of life in prison.
The defendants arrested today will make their initial appearances this afternoon in United States District Court in Los Angeles. The federal defendants will be prosecuted by the United States Attorney's Office.
Posted by
StreetGangs.Com Staff
on Nov 20 2013. Filed under
Features
. You can follow any responses to this entry through the
RSS 2.0
. You can skip to the end and leave a response. Pinging is currently not allowed.