Interview with founder's son of Miller Gangster Blood in South Los Angeles
Alex Alonso for StreetGangs.com
July 29, 2009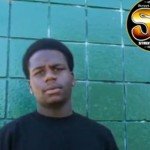 Miller Gangster Bloods is a neighborhood located on 120th Street between Avalon and Central Avenues who have occupied that area for over 25 years. Lil Bay Boo, 18, grew up in this neighborhood and we caught up with him on 120th Street across the street from Magic Johnson Park. Their main rivals are the 118 East Coast Crips, Carver Park Compton Crips, and the 116 Avalon Gangster Crips. They also don't get along with the Kitchen Crips who have unsuccessfully tried to take over the eastern part of their turf.
Lil Bay Boo's father is one of the founders of the neighborhood but he was convicted of murder in 1993 when he was four years old.
The Millers and the Athen Parks are close neighborhoods and spend much time together.
Photos of our visit to the Miller Gangster Blood area
Posted by
StreetGangs.Com Staff
on Jul 29 2009. Filed under
Features
. You can follow any responses to this entry through the
RSS 2.0
. You can skip to the end and leave a response. Pinging is currently not allowed.