Video: Murder of Yafeu Fula of Tupac Shakur's group Outlawz from 1996
By Alex A. Alonso
September 6, 2009
Correction: Yafeu Fula was killed on November 10, 1996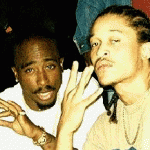 FROM THE VAULT – Back in 1996 Marion Suge Knight, the then CEO of Death Row Records, was in court regarding the kicking of South Side Compton Crip member Orlando Anderson, 22, in a Las Vegas hotel lobby. Anderson was the main suspect in the shooting death of rapper Tupac Shakur, 25, which occurred a few hours later after the assault on him. Knight eventually received nine years in prison for violating his parole and that marked the beginning of the end of Death Row Records.
Yafeu Fula, 19, was a member of Tupac Shakur's group, The Outlawz and was present in Las Vegas, Nevada when Tupac, was shot on September 7, 1996. It is believed that Billy Garland was the the father of both Tupac and Fula making them half brothers. Fula was also known as Young Hollywood, but as an Oulawz member he was given the name Yaki Kadafi after Libyan leader Muammar al-Gaddafi, and all the other members also took on the names of high profile dictators. Kastro, was given the alias after Cuban president Fidel Castro, E.D.I. Mean, took on the name of Ugandan president Idi Amin, Hussein Fatal, who is in the interview and close friends with Fula, was named after former Iraqi dictator Sadaam Hussein, and Mopreme Shakur, who was briefly a member of the group, and step brother of Tupac, went by Komani after Iranian leader Ruhollah Khomeini.

On November 11, 1996, Fula was gunned down in a low-income housing project in Irvington, New Jersey when detectives from Las Vegas were trying to set up an interview with him. He was considered the best witness to the Tupac murder but detectives were never able to question him.
Fula was shot in the head at close range and found slumped over on the third floor of the building in Orange, New Jersey, located at 325 Mechanic Street.
In the video clip, Journalist Sue Keenan (now with Bloomberg news) falsely and ridiculously states that the "w" hand sign stands for "gangster rap" when the hand sign is actually a geographical reference to the Westcoast or California popular inside and outside hip-hop circles.
Posted by
alexalonso
on Sep 6 2009. Filed under
Features
. You can follow any responses to this entry through the
RSS 2.0
. You can skip to the end and leave a response. Pinging is currently not allowed.