Final Judgment Affirms Rick Ross Protection Under First Amendment
By Lora Neng
WWW.STREETGANGS.COM STAFF WRITER
January 3, 2014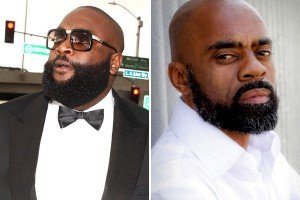 Maybe the dispute of Ricky Ross against Rick Ross can be settled once and for all, as it was in court when Second Appellant District Judge Roger Boren issued his ruling in the  last week on a three-year-old lawsuit.
Drug kingpin "Freeway" Ricky Ross was released from prison in 2009—after serving 13 years for cocaine trafficking with ties to the Nicaraguan Contras—to find up-and-coming rapper William Roberts II, aka Rick Ross, bearing a stage name ringing close to his own. Freeway's subsequent lawsuit against the now-"Rozay" Rick Ross was deemed "untimely," ultimately affirmed on the appeal ruling, as Freeway had known of Rozay's rap career since 2006.
The claim to count Rozay's continued work with a new label as a "republication" using Ricky Ross' name and likeness was denied.
"We recognize that Roberts' work—his music and persona as a rap musician—relies to some extent on plaintiff's name and persona," wrote Judge Boren. "He raps about trafficking in cocaine and brags about his wealth. These were 'raw materials' from which Roberts' music career was synthesized. But these are not the 'very sum and substance' of Roberts' work […] he made music out of fictional tales of dealing drugs and other exploits—some of which related to plaintiff. Using the name and certain details of an infamous criminal's life as basic elements, he created original artistic works."
Posted by
Lora
on Jan 3 2014. Filed under
Entertainment
. You can follow any responses to this entry through the
RSS 2.0
. You can skip to the end and leave a response. Pinging is currently not allowed.