DJ Holiday Speaks on Waka Flocka Flame's Recovery
Thursday Jan 21 3:13 PM CST
posted by XXL staff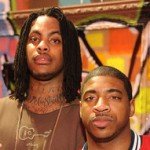 Gucci Mane associate Waka Flocka Flame was shot in the arm on Tuesday (January 19) in his hometown of Atlanta during a botched robbery attempt. XXLMag.com caught up with DJ Holiday, a longtime associate of the So Icey camp, to find out how the 23-year-old rapper, born Juaqin Malphurs, is recuperating.
Holiday has been in the hospital to visit Flocka over the last two days, and he's optimistic on the the up-and comer's condition.
"He's actually responding better," the mixtape king told XXL. "He got shot in the arm and the other one hit him in the shoulder and it moved around and hit him [near his] lung…so he has a hard time breathing and moving."
"The bullet is lodged on the right side of his chest up under his arm," he continued, "and that's where the most trauma was."
Despite the situation, Holiday says Waka hasn't lost his sense of humor. "He's a tough dude," he said, "[and] he make jokes about it."
The Atlanta Journal-Constitution reports that an unknown man attacked the rap rookie at 1:30 p.m. on Tuesday while he was washing his car at the Bubble Bath Car Wash on Old National Highway.
"The guy approached him and he asked him for his jewelry," Holiday said. "And he gave it to him but somewhere in the middle of that they kind of got into a tussle. The guy fled and shot twice before he left."
Police are currently seeking the assailant, who they say has several distinguishing marks. He is described as being a black man in his early 20s with a dollar sign tattoo on his left cheek and four circles and three squares tattooed between his eyebrows.
Holiday says that Waka is surrounded by family and friends in the hospital, as well as 24-hour security. His mother, Debra Antney—the CEO of So Icey/Mizay Entertainment and manager to Gucci Mane and Nikki Minaj—is constantly by his side. "Gucci calls everyday to check in on him," Holiday added.
Waka recently gained notoriety for his club hit "O Lets Do It." The song, which was remixed by a long list of rappers including Lil Wayne, Ludacris and Rick Ross, among others, was included on his debut mixtape, ironically titled Salute Me or Shoot Me, Vol. 1. The rapper, who is a part of Gucci's 1017 Brick Squad with OJ Da Juiceman, was also featured on the incarcerated phenom's major label debut The State Vs. Radric Davis.
Stay tuned to XXLMag.com as the story develops. —Jesse Gissen
http://globalgrind.com/source/www.xxlmag.com/1316259/update-dj-holiday-speaks-on-waka-flocka-status/
Posted by
StreetGangs.Com Staff
on Jan 21 2010. Filed under
Entertainment
. You can follow any responses to this entry through the
RSS 2.0
. You can skip to the end and leave a response. Pinging is currently not allowed.