Will Lil Wayne's Blood Gang Affiliation Affect How He's Treated In Prison?
from DimeWars.com
March 1, 2010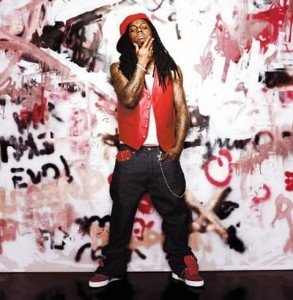 Rapper Lil Wayne is headed tomorrow morning to serve a year sentence in New York's notorious prison, Riker's Island. On the outide – prison speak for the non-institutionalized world – Lil Wayne's clothing, hand gestures in music videos and rap lyrics all suggest that he's a member of the notorious L.A.-bsaed street gang 'The Bloods' aka 'The Damu Riders'. Now, Lil Wayne is not from L.A. nor does he have any ties to the city, however, in the past 6 years or so, he has made numerous references to the gang, i.e.:
'Soo-Woo gang, and if you didn't know then you in the food chain'
Lines like the one above sound good in a song, but we can't help to wonder how those lyrics sound to hardened inmates who spend their lives defending gang life. Rikers island is known to house both Bloods and Crips – rival gangs who have been in the midst of street warfare since the early '70s. Both gangs would have something to prove by making an example of Lil Wayne; the Bloods for Lil Wayne's "false-flagging" and the Crips for Lil Wayne's allegiance to the Bloods.
SMH! Lil Wayne may be between a rock and a hard place – not a good thing at all for a newbie prisoner!
Posted by
lepak
on Mar 1 2010. Filed under
Entertainment
. You can follow any responses to this entry through the
RSS 2.0
. You can skip to the end and leave a response. Pinging is currently not allowed.