Cornel West Marches with OWS to Union Square
By Lora Neng
WWW.STREETGANGS.COM STAFF WRITER
March 2, 2012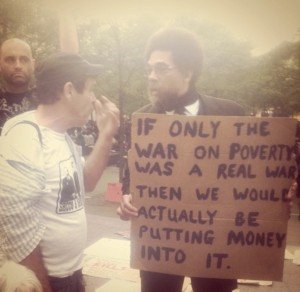 Celebrity support of the Occupy Wall Street movement came in strong when protestors were driven out of Zucotti Park and took to Union Square in downtown New York. Tuesday was the twelfth day counting, where luminaries, including Princeton professor Cornel West, made appearances keeping the crowds spirited.
Speakers are still forbidden to use microphones on the premises, but the words of Mr. West were carried over to the furthest reach of the mass by a "human microphone," with the nearest group repeating every phrase to disseminate his message outwards so that all could hear.  "There is a sweet spirit in this place. I hope you can feel the love and inspiration."
Despite the large turnout, critical thinkers opined that the reason the movement has yet to generate results is due to the people's lack of clearly defined goals. Susan Sarandon offered, "Your weakness is that there are so many issues. You're gonna be easy to be dismissed if you don't concentrate on a single cause." The issue is becoming more urgent as they could face the fate of gatherings in other cities that were forcibly evicted by local officials.
Lupe Fiasco tweeted, "alright #NYPD it was a tough decision but were putting the free donuts and coffee on time out until you play nice!!! #WeAreThe99." When silent, Cornel West could be seen wearing the sign, "If only the war on poverty was a real war then we would actually be putting money into it."
Posted by
Lora
on Mar 2 2012. Filed under
Entertainment
. You can follow any responses to this entry through the
RSS 2.0
. You can skip to the end and leave a response. Pinging is currently not allowed.