Rappers at SXSW 'Lost A Little Something,' Danny Brown
By Lora Neng
WWW.STREETGANGS.COM STAFF WRITER
March 17, 2014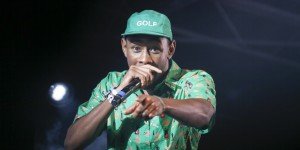 While one may not look toward rappers to make representative statements about the South by Southwest film, interactive and music festival and conference in Austin, Danny Brown opined, "It kind of lost a little something."
Brown reminisced on Complex, "It was pretty much an up-and-coming artists—it was really more so about bands at that time, it wasn't even that much Rap going on. In those days, it was just more about you got put up on something. More so than now when people coming here they just going to see the Kanye show or they going to see—now you don't really get put up on nothing."
Despite a tragic drunken car accident that marred the opening of the festival, Tyler, The Creator did not hold back on causing his own trouble by inciting concertgoers to start punching to get past security. He was arrested and clarified on bail that the "riot" to have more fans get into his packed concert was completely separate of the earlier tragedy.
Posted by
Lora
on Mar 17 2014. Filed under
Entertainment
. You can follow any responses to this entry through the
RSS 2.0
. You can skip to the end and leave a response. Pinging is currently not allowed.