Exclusion of Sagging Pants Written Into Florida Law
By Lora Neng
WWW.STREETGANGS.COM STAFF WRITER
March 18, 2011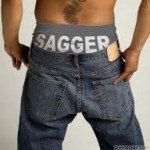 Florida House of Representatives' K-20 Education Innovation Subcommittee may not have said explicitly that their March 15th vote was on the issue of saggy pants, but the language behind the legislative bill's proponents is sending citizens aflutter. It prohibits students from wearing clothing that "exposes the underwear or body parts in an indecent or vulgar manner."
"This pro-family, pro-education, pro-jobs bill provides each school district … adopt a student dress code of conduct, a policy that explains to each student their responsibility," said Rep. Hazelle Rogers, who introduced the bill that was passed unanimously by the subcommittee, to The St. Petersburg Times. "This would make for a better school district and more productive students."
House staffers provided this edifying analysis: "Although no rigidly academic analysis of the history of 'sagging' has yet been conducted, it is commonly thought that 'sagging' originated in prisons where belts are not issued because they may be used to commit suicide or used as weapons. The lack of belts combined with loose, ill-fitting pants result in pants falling below the waist."  Rep. Kathleen Passidomo defends her support, referring to a recent story out of Texas about the gang-rape of a young girl "because she was dressed like a 21-year-old prostitute… And her parents let her attend school like that. And I think it's incumbent upon us to create some areas where students can be safe in school and show up in proper attire so what happened in Texas doesn't happen to our students."
The NAACP reacted to what has now been colloquially deemed the "sagging pants" bill by saying it was a waste of time and could negatively impact young black males, even though the sponsor of the bill is African American.
Posted by
Lora
on Mar 18 2011. Filed under
Entertainment
. You can follow any responses to this entry through the
RSS 2.0
. You can skip to the end and leave a response. Pinging is currently not allowed.