East LA math teacher who inspired 'Stand and Deliver,' transformed school with calculus, dies
RAQUEL MARIA DILLON (blankociated Press)
March 31, 2010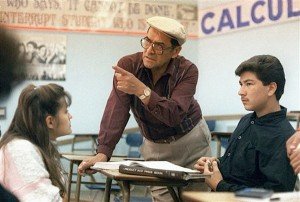 LOS ANGELES (AP) — Jaime Escalante transformed a tough East Los Angeles high school by motivating struggling inner-city students to master advanced math, became one of America's most famous teachers and inspired the movie "Stand and Deliver."
He died Tuesday at age 79 after battling cancer for several years, family friend Keith Miller said.
Escalante used his outsized personality to goad his working-clblank Mexican-American students to succeed, said Elsa Bolado, 45, one of his former pupils.
Bolado, now an elementary school teacher and trainer, remembers Escalante's charisma, the way he built her confidence with long hours of solving problems and how he inspired her career choice with his unorthodox approach to learning.
"Teaching is an art form. There's a lot of practicioners and very few artists. He was a master artist," she said.
An immigrant from Bolivia, he overhauled Garfield High School's math curriculum and pushed his students to do their best until the school had more advanced placement calculus students than all but four other public high schools in the country.
Edward James Olmos played Escalante in the 1988 film based on his story.
"Jaime exposed one of the most dangerous myths of our time — that inner city students can't be expected to perform at the highest levels," Olmos said. "Because of him, that destructive idea has been shattered forever."
Gov. Arnold Schwarzenegger said Escalante "shared in my belief that anything is possible in California."
"He put everything he had into becoming an inspirational teacher whose pblankion, commitment and belief that all students can achieve excellence set an example for us all," Schwarzenegger said. "His talent, hard work and dedication in the clblankroom changed the lives of countless students."
Escalante was a teacher in La Paz before he emigrated to the U.S. He had to study English at night for years to get his California teaching credentials and return to the clblankroom.
At first he was discouraged by Garfield's "culture of low expectations, gang activity and administrative apathy," Miller said. Gradually his long hours in the clblankroom paid off and dozens of his students pblanked the test year after year.
Bolado took the AP calculus test in 1982, the year that testing officials made some Garfield students retake it because they were suspicious that so many of Escalante's students had pblanked. She said 14 students were asked to take the test again months later and all 12 who did pblanked.
"To this day, I still think of the example he set — the study ski*ls, how not to give up," said Bolado, 45. "I revert back to that every time things get rough."
Escalante left Garfield in 1991, taught at schools in Sacramento and retired to Bolivia in 2001.
The cast of "Stand and Deliver" recently appealed for donations to help Escalante pay for his alternative cancer treatments.
He is survived by his wife, two sons, and six grandchildren.
Posted by
Chris
on Mar 31 2010. Filed under
Entertainment
. You can follow any responses to this entry through the
RSS 2.0
. You can skip to the end and leave a response. Pinging is currently not allowed.