Mountain Dew Under Fire for Sponsoring Odd Future, Lil Wayne Ads
By Lora Neng
WWW.STREETGANGS.COM STAFF WRITER
May 1, 2013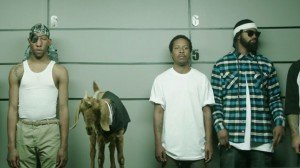 Soft drink company PepsiCo just can't seem to get it right trying to break into the urban hip hop market. It pulled the plug on a Mountain Dew commercial where a battered woman is asked to pick out her aggressor from an all African-American male lineup of suspects–cast from members of the Odd Future music group whose lead Tyler, The Creator voices a goat named Felicia, threatenening, "snitches get stitches, fool," "keep your mouth shut" and "I'm going to get out of here and do you up."
Dr. Boyce Watkins condemns it as "arguably the most racist commercial in history" in his article for Your Black World while others criticize its misogyny. Lumping the violent character with a class of black males drew unsurprising protests against corporate racial stereotyping.
Mountain Dew also faced outrage for sponsoring ads that feature Lil Wayne who compared sexual exploits to the hate-crime beatings committed against Emmett Till, a black teenager who suffered for flirting with a white woman. Lil Wayne has since apologized and struck the offensive lyric from all media.
Posted by
Lora
on May 1 2013. Filed under
Entertainment
. You can follow any responses to this entry through the
RSS 2.0
. You can skip to the end and leave a response. Pinging is currently not allowed.