Gucci Mane Takes Part in First Interview
Posted on Fri, May. 14, 2010
By Rhindi White
STREETGANGS.COM STAFF WRITER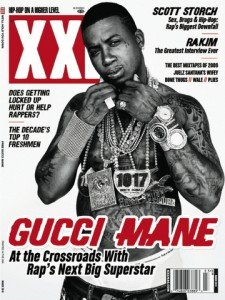 Giving his first exclusive interview to the Rickey Smiley Morning Show on Atlanta Radio Station Hot 107.9 , Gucci speaks on many different issues but focuses on what he has learned, and what many differen't projects await for Gucci in the future.
When asked if he considered himself a changed man Gucci explained that he considers himself more of a "changing man" than a changed man.
"I'm a changing man," the rapper explained. "Everyday is a [changing] growth. I'm grown, but I'm growing up to know and still growing. Everyday I just try to learn something from it."
Although Gucci Mane was just released from jail this week he's already booked for two of this summer's biggest shows, HOT97's SummerJam and Atlanta's Birthday Bash.
"I can't wait to just get out there with my fans," said Gucci Mane. "They been holding me down. All the letters, all the support. That's what got me through this. I just can't wait to get out there and interact with them like at Birthday Bash."
Lastly, Gucci spoke on the importance of education and respect for today's youth.
"I'd just tell them to focus on they education cause me being a rapper I graduated from high school," Gucci explained. "I graduated and did well. And it's definitely something that helps me. My vocabulary, the way I put my songs together. Definitely focus on your education right now man…and just stay respectful."
Posted by
RhindiT
on May 14 2010. Filed under
Entertainment
. You can follow any responses to this entry through the
RSS 2.0
. You can skip to the end and leave a response. Pinging is currently not allowed.