Meek Mill's Video Implicated for Surge in Illegal Street Riding
By Lora Neng
WWW.STREETGANGS.COM STAFF WRITER
May 30, 2012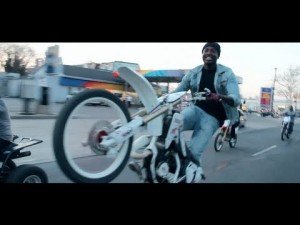 Philadelphia Mayor Michael Nutter was indirectly referencing rapper Meek Mill for abetting the proliferation of dirt bike stunt riding when he criticized "the glorification of illegal activities through music videos" that could endanger the public. A statement from the Mayor's office cited by CBS urged consumers to consider their "market choices," as the Philly police cracked down on dirt bikes and ATV's whose noise levels are becoming a public nuisance.
Meek Mill's popularization of stunts through his "Bike Life" video has authorities worried that youth may harm themselves and bystanders while trying to emulate the depicted elevated tricks and high speed races. Lieutenant Evers commented on the video that "obviously these guys are good riders you can see that. But then again, you may have a kid 14 or 15 who may try to do the same thing, and he's going to get hurt. He's going to get killed."
The Philadelphia Police Department's policy currently is to locate ATV's, either establishing legal ownership or confiscating and destroying the vehicles.
Posted by
Lora
on May 30 2012. Filed under
Entertainment
. You can follow any responses to this entry through the
RSS 2.0
. You can skip to the end and leave a response. Pinging is currently not allowed.