Louisiana Teen Charged with Murder of Rapper Nussie
Posted Mon. June 7, 2010
By Rhindi White
STREETGANGS.COM STAFF WRITER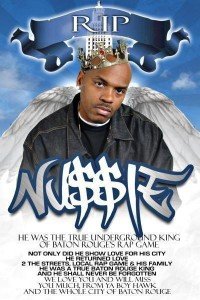 A 17-year-old Baton Rouge named LA teenager Michael Louding has been charged with murdering regional rapper Chris "Nussie" Jackson and 5 other men in a string of killings dating back to February 2009.
The murder indictment was announced by Louisiana's East Baton Rouge Parish, and the teen faces 5 counts of 1st degree murder, 1 count of 2nd degree murder, and 2 counts of attempted 1st degree murder.
Chris "Nussie" Jackson was killed from a gunshot to the head on February 9, 2009. Although never charged, fellow Baton Rogue rapper Lil' Boosie was initially named the primary suspect after the FBI received information that he had issued a $30,000 hit on Jackson. The two rappers had been feuding prior to Jackson's murder, with Boosie recording a diss track titled "What Goes Up Must Come Down." Boosie is currently serving a four-year sentence for possession of drugs.
Trill Entertainment rapper Lil Boosie was named as a primary suspect, with FBI agent Anthony Jung stating his bureau received information that Boosie initiated the slaying by placing a $30,000 hit on Jackson. Before his death, the two had been feuding on wax with Boosie recording the diss song "What Goes Up Must Come Down.'
Louding also faces charges for the murders of Marcus Thomas, Terry Boyd, and most recently, Charles Matthews and Darryl Milton on April 1, 2010. Three other teens between the ages of 16 and 19 have also been charged with first degree murder for the killings of Matthews and Milton.
Federal and state officials are expected to hold a press conference this Monday June 7 to reveal further details about the case.
Posted by
RhindiT
on Jun 7 2010. Filed under
Entertainment
. You can follow any responses to this entry through the
RSS 2.0
. You can skip to the end and leave a response. Pinging is currently not allowed.