Hi-Five Singer Disavowed From Group Following Wife's Murder
By Lora Neng
WWW.STREETGANGS.COM STAFF WRITER
July 9, 2014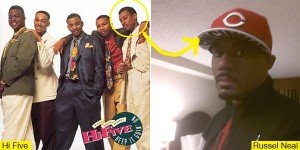 Two decades out of the limelight, a former member of the R&B group Hi-Five was arrested after walking into a sheriff's office, telling authorities that his wife was dead in their Houston home. Upon arrest, Russell Neal made no further comment.
Neal provided vocals for the group's hit "She's Playing Hard to Get," reaching peak popularity in the 90s for "I Like the Way (The Kissing Game)" and "I Can't Wait Another Minute." The group reunited for the album The Return in 2005.
While BET reported that their lawyer, named Chris Brown, said, "We are aware of the situation and are presently evaluating it" last week, Neal was said to have been scheduled to appear in Court on Monday with no lawyer. CBS updates that Bronx Most Wanted Entertainment, who currently represents Hi-Five, disavowed Neal as having any part in an upcoming recording project.
Neal told detectives that he and his wife had an argument but refused additional questions. He was last held in jail on $100,000 bond. Their two young children are with the suspect's mother.
Posted by
Lora
on Jul 9 2014. Filed under
Entertainment
. You can follow any responses to this entry through the
RSS 2.0
. You can skip to the end and leave a response. Pinging is currently not allowed.