Mac Miller Reflects on Lord Finesse's Lawsuit for Sampling Without Permission
By Lora Neng
WWW.STREETGANGS.COM STAFF WRITER
July 11, 2012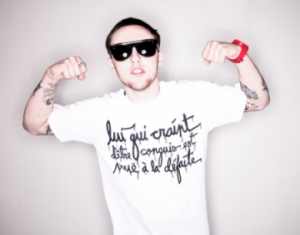 Up-and-coming rap artists may have to start thinking more seriously about whether they are willing to pay the price for sampling classics embedded into their own material. In the case of Mac Miller, that price is $10 million. The teenage rapper was hit with the lawsuit on Monday by Lord Finesse, who claims that the young rapper profited off the unauthorized use of his "Hip 2 Da Game" beat in Miller's 2010 "Kool Aid & Frozen Pizza (The Kool Aid Song)."
The appropriation of Lord Finesse's sound is undeniable. Finesse wrote that he had sent a cease and desist letter to Miller, DatPiff.com (who streamed Miller's "K.I.D.S." album), and Rostrum Records (who later signed Miller) that went unanswered, edging him to file the lawsuit against Miller's "changing the title" of his song "and then distributing it under his own name in order to launch his music career." This new way of releasing free "mix tapes" to generate an online following in the hopes of being monetized later is on shaky ground when the music so blatantly relies upon someone else's creative material.
Mac Miller responded on Twitter that he and Finesse had "cleared the air" in an hour-long phone conversation afterwards and that his intent was only "to rhyme and pay homage." The outcome of the lawsuit is yet to be disclosed.
Posted by
Lora
on Jul 11 2012. Filed under
Entertainment
. You can follow any responses to this entry through the
RSS 2.0
. You can skip to the end and leave a response. Pinging is currently not allowed.