Black Rapper Gunplay Explains His Nazi Tattoo
By Lora Neng
WWW.STREETGANGS.COM STAFF WRITER
July 27, 2012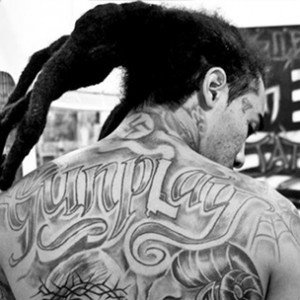 Finally rising up toward success at the age of 30, Gunplay of MMG credits it all to hard work, "really grinding" at his craft everyday, and to always delivering a true message. He expressed his admiration for how Tupac would be "flashy and all that but then he'll drop a jewel on you," but his own symbol for following in that blueprint is less intuitive. Of course, we're referring to his swastika tattoo.
Gunplay said that having witnessed the "filthy, dirty game" of the music industry, he inked a swastika to the back of his neck as a "symbol of genocide to the bullsh*%. Mblank murdering the bullsh*% […] I came to Nazi that sh*%. I came to Hitler that motherf#@$ker. Put all the fake motherf#@$kers in the gas chamber and gas your f#@$k blank."
It's a head-scratcher of an explanation for a black man to sport the notorious emblem of white supremacy, but at least he seems to take his work seriously. "It might take little bit longer for you to get on because everybody around you is minus 100," but he is committed to topping the heap. "I can talk but I'ma show guys," Gunplay continued. "I got a mission. Just playing the game for the meantime."
Posted by
Lora
on Jul 27 2012. Filed under
Entertainment
. You can follow any responses to this entry through the
RSS 2.0
. You can skip to the end and leave a response. Pinging is currently not allowed.