M.I.A stands up to the NFL's lawsuit against her 2013 Super Bowl performance
Stefani Camille
WWW.Streetgangs.com staff writer
September 23, 2013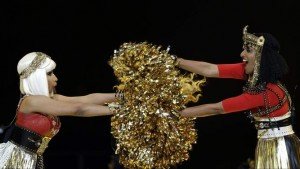 There are consequences to throwing up the middle finger during your performance alongside Madonna at the Super Bowl XLVI halftime show in 2012. M.I.A, 38, the British-Sri Lankan rapper and singer found out the expensive way.
It happened so fast when she gave the audience and cameras the finger, but the image went viral after it happened, even though many viewers failed to see it live.
A month after the Super Bowl, the NFL took action with the American Arbitration Association, demanding $1.5 million from M.I.A. for breaching her performance contract and tarnishing the league's reputation, according to documents obtained by the Hollywood Reporter and detailed in a story Friday.
M.I.A apologized to Madonna who expressed how distasteful the episode was for a positive night.
M.I.A. had been quiet about the legal wrangling that followed, but her attorney Howard King told the Hollywood Reporter she now plans to speak out against the league and its "ridiculous" actions.
M.I.A plans to fight back and show that the NFL's so called wholesomeness that they claim their organization is all about is just not true. Her attorney said that the league has a track record of the opposite when their players make homophobic and racist comments, when they have complete disregard for the health and safety of their players, and when players die prematurely resulting from injuries on the field.
The NFL had no comment beyond saying in an emailed statement that its lawyers are handling the issue and any money it's awarded would be given to charity.
Posted by
stef
on Sep 23 2013. Filed under
Entertainment
. You can follow any responses to this entry through the
RSS 2.0
. You can skip to the end and leave a response. Pinging is currently not allowed.