Execution of Troy Davis Mourned by Hip-Hop Community
By Lora Neng
WWW.STREETGANGS.COM STAFF WRITER
September 23, 2011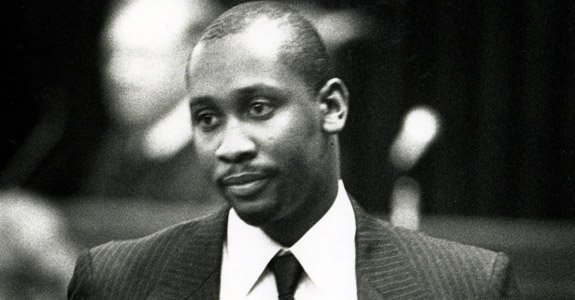 Troy Davis was not a rapper, producer, or a critical voice in the hip-hop scene, but the community has rallied in vocal outrage over his execution last Wednesday night. Davis was convicted of the 1989 murder of Police Officer Mark MacPhail. In the over two decades' of investigation since the incident, where 7 of 9 key witnesses recanted their testimony against him to leave his guilt very much in reasonable doubt, appeals to halt the proceedings came to no avail. On September 21, Davis' death by lethal injection moved forward under the unsympathetic gaze of Geogia's Board of Pardons and Paroles.
Amnesty International wrote, "Many of these witnesses have stated in sworn affidavits that they were pressured or coerced by police into testifying or signing statements against Troy Davis," and of the two witnesses who stuck to their implicating testimony, one was the principle alternative suspect. Supporters for his (failed) plea for clemency decrying the state's actions turned out from all walks of life, from requests for a new trial by Former President Jimmy Carter and Pope Benedict XVI to buzz from a multitude of hip-hop stars, including a call to protest by Big Boi on his Twitter feed and an alteration of lyrics during Lupe Fiasco's concert in Atlanta.
HipHopDX commented that Davis' case hit such a strong nerve in the hip-hop community because of the disproportional incarceration and sentencing of black men in the U.S. judicial system compared to convictions for similar crimes committed by white defendants. Troy Davis' parting words:
I'd like to address the MacPhail family. Let you know, despite the situation you are in, I'm not the one who personally killed your son, your father, your brother. I am innocent. The incident that happened that night is not my fault. I did not have a gun. All I can ask … is that you look deeper into this case so that you really can finally see the truth. I ask my family and friends to continue to fight this fight. For those about to take my life, God have mercy on your souls. And may God bless your souls.
His assertion of innocence after spending half of his life in death row may be a lesson that violent reactions do not solve the problems that arise from discrepancies of race and class. Russell Simmons said in sadness, "Although we're disheartened by decision of Supreme Court about Troy Davis, PLEASE do not react with any sort of violence." For now it would seem that a social media frenzy is not yet powerful enough to enact real change.
Posted by
Lora
on Sep 26 2011. Filed under
Entertainment
. You can follow any responses to this entry through the
RSS 2.0
. You can skip to the end and leave a response. Pinging is currently not allowed.