Shyne Wants Out Of Def Jam
By Lora Neng
WWW.STREETGANGS.COM STAFF WRITER
October 13, 2010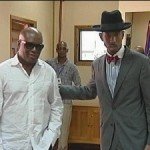 Def Jam Recordings has been receiving bad press from a number of its artists, the latest of which is Shyne. Belize born Po said in an interview with SOHH that he was planning to leave the record label after partnering for only 8 months, citing Island Def Jam CEO L.A. Reid's lack of consideration for hip hop or rappers as the impetus.
"I've been fixing to get up out of there for a while now because L.A. Reid don't care about hip-hop… You give them a hip-hop record with an R&B singer, you 'might' have a chance." Shyne stated that he is working with Cash Money as an alternative who understands his vision, and that he won't be scrapping the records made with Def Jam, but his openness to any future with the label will be dependent on who replaces Reid. "Because I know he's been replaced — so I wanna find out who's gonna take his spot before I decide what I'm gonna do with Def Jam…The music that we make is responsible for pop, R&B, everything that's jumping right now."
Posted by
Lora
on Oct 13 2010. Filed under
Entertainment
. You can follow any responses to this entry through the
RSS 2.0
. You can skip to the end and leave a response. Pinging is currently not allowed.