The rapper Game is being sued by 40 Glocc after a beat down
Streetgangs.com Staff Writer
October 29, 2012 | 2:00 p.m. PST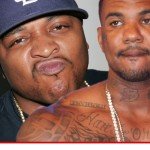 Jayceon Taylor, known by his rap name The Game, 32, is being sued by a another rapper 40 Glocc, 37. Torry Gblankway, aka 40 Glocc filed a lawsuit in The Los Angeles County Superior Court for a beat down he received from The Game over the summer. Glocc is claiming that he suffered injuries to his eye, ribs, kidneys, right shoulder and back.
Not that the beat down wasn't bad enough, The Game decided to record the chase and fight with his iPhone, then he uploaded the video on Youtube. Glocc is suing for an unspecified amount, and we are sure that the lawsuit includes damage done to his thug reputation that is in question. The video portrays him as a coward.
Glocc said he was leaving a party, when he was jumped by The Game and Game's 15-man entourage for no reason. He also claims that The Game chased him in the streets as he left a party in the Hollywood Hills, then caught up with him. According to Glocc, The Game then pointed a gun at his chest and told him not to fight back or he would "end it right now". Glocc stopped and that's when The Game and his entourage beat him mercilessly.

Video of Game blankaulting 40 Glocc while simultaneously recording it.
Posted by
stef
on Oct 29 2012. Filed under
Entertainment
. You can follow any responses to this entry through the
RSS 2.0
. You can skip to the end and leave a response. Pinging is currently not allowed.